When it comes to craft projects and ideas for kids or adults, especially for a brand new beginner, everyone seeks some expert guidelines and few smart tricks as it's not that easy to create a masterpiece. But, with the DIY images and proper steps, one can get it done in no time. Today, we got air dry clay projects and ideas for all art lovers around here. I think air dry clay project is that draft work that stays for longer as it gets stronger as the time passes by. Scroll down to learn some fantastic air dry clay projects and ideas for kids.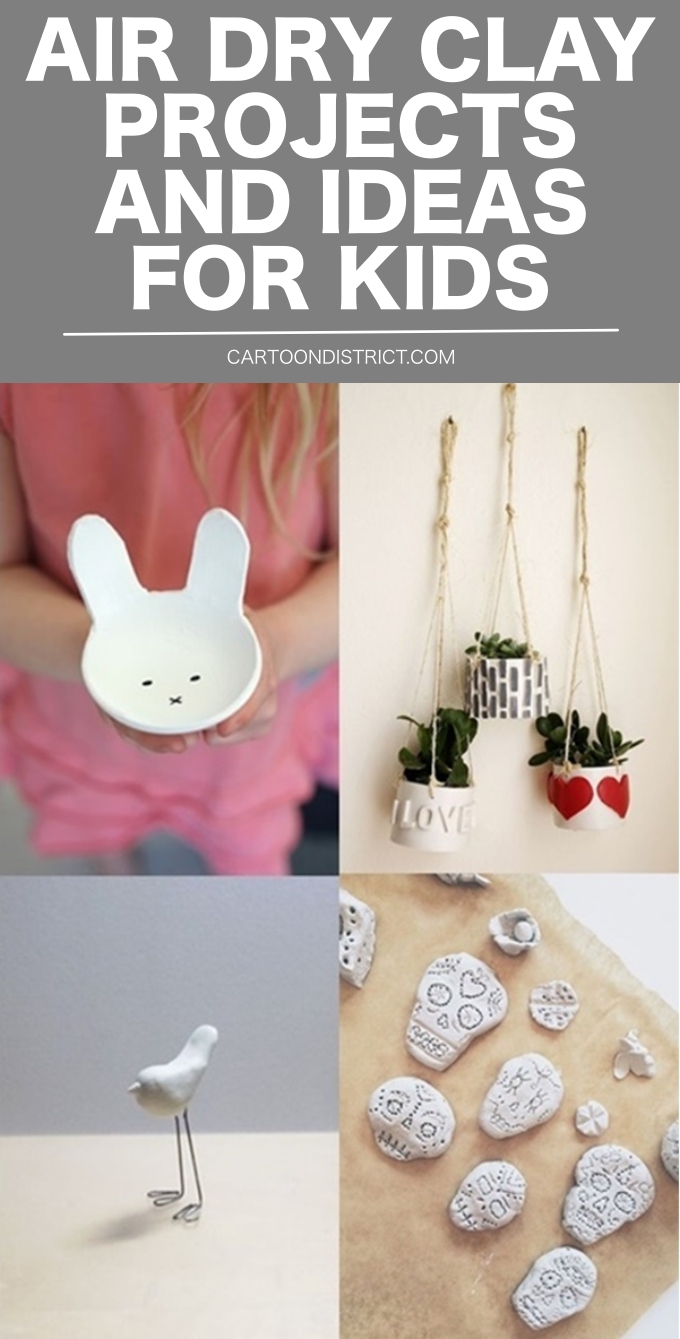 Air Dry Clay Projects and Ideas for Kids
So, as the title says, air dry clay projects and ideas for kids- but to be very honest, anyone can try these ideas. And as a beginner, you can start with some paper craft ideas.
Dry bowls:
Hey kiddo, you know you can gift this craft to your mother as these bowls can be used to carry jewelry or for the decorative purpose. In order to make this happen, you'll need a glass bowl so you can extend the clay on its surface and stretch it.  Make sure to put the clay on the inner side of the bowl only and once it's dried, remove it from the bowl and paint it like a master. As there must be a painting artist inside you so you can flaunt this dynamic craft.
Candle holder:
Isn't that cool? Fresh aroma of enticing candles on a rainy evening or when there's a function at home can enhance the mood amazingly. And in that case, craft yourself a candle holder. It's very simple as you got to put the candle in clay so it can get its shape and wait until it's dried. You can consider this type of craft for decorative purpose especially on festive season i.e. Christmas party ideas for kids.
Christmas decorations:
Yeah! Finding a Christmas decoration idea is not that much hard when it comes to craft something yourself, this may sound not-that-easy thing. But here, as you can see, with a well-shaped cardboard and clay you can let that happen. Here, check out a fascinating Christmas decor ideas for fun.
Tea light holder:
When I saw this image I decided to craft this for myself as this was really an inviting and touched my heart. If you too got such nerves than get yourself a plastic or glass bottle and cover it with clay. Once it gets dried you can go for the artwork as it'd be unfair if you don't décor it.
Trinket tray:
That's one of the best air dry clay projects and ideas for kids to make. Have you ever thought of making such trinket tray with just rolling pin that you can find in the kitchen? Just press the clay with rolling pin and cut it from the sides with knife or scale and leave it to get dry. Now, you can consider this for your room as teen kids love to personalize things for their bedroom.
Flower pot:
From small to large, you can create any kind of flower pot for your hanging garden. Well, with this pot succulent can be grown as it'll provide them enough space and catchy looks as well. Just make a ball of clay and remove the clay from edges with sharp blade or knife and then dig a hole in it or give it that specific shape and it's done.
With these air dry clay project projects and ideas for kids we tried to hand little champs in order to bring out their art and talent. And if you got more ideas and hacks, feel free to share with us in comment section and have fun.