The cartoon is a simple drawing or a source of creative thinking from anyone's perception. Cartoons are considered to be a representation of various aspects of human life. They could be humorous, fun, or serious. With the help of cartoons, Cartoonist tries to capture the idea of what he/she wants to convey. People always feel associated with cartoons since childhood because almost everyone had watched cartoons at his early age.  Although cartoons are always associated with children even adults love cartoons as much as children. Some people think that cartoons are only for kids but you would be surprised to know that many adults or grown-ups love cute cartoons equally. And, if you check this famous characters list of Cute Cartoon Couples in Love, you'll feel that affection for cartoons in your heart as well.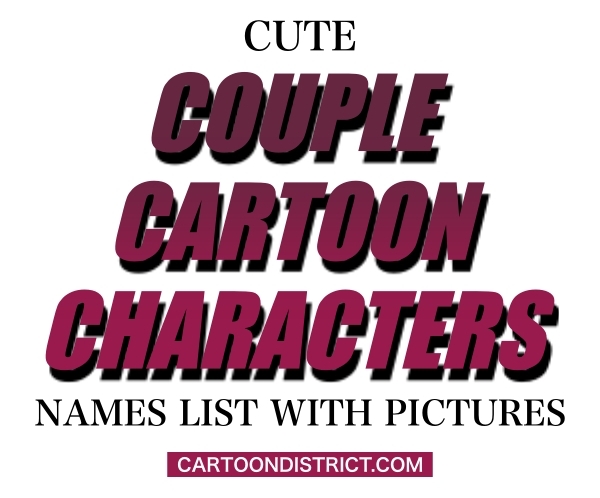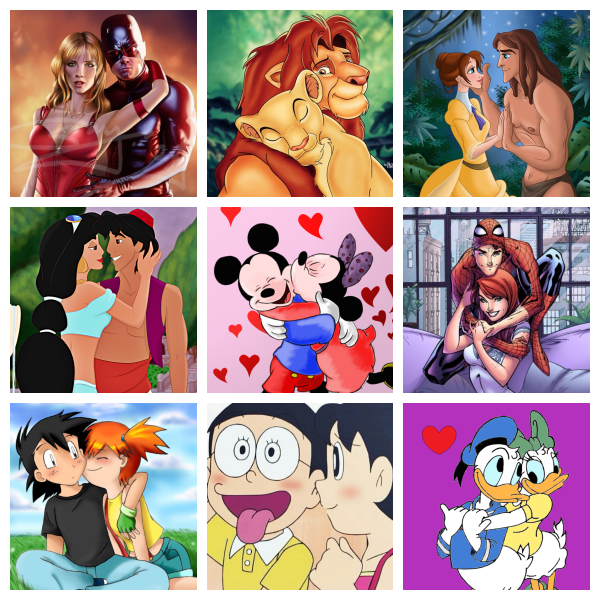 As a child, you love watching those animated cartoon movies like Tom and Jerry, Mickey Mouse etc. Disney cartoons are considered most famous all around the globe because of their cuteness. Not only children but also even adults associate themselves easily with cartoons. This is the reason why animated movies are big success these days. With these animated cartoons you can show almost any aspect of life be it humor, Seriousness, Action or adventure.
People love to not only see these cartoons but also draw various cartoon characters you see on TV or in movies. There are many websites, which even make cartoons of your image, and people feel attracted to use such applications and even display their cartoon pictures on social networking sites like Facebook. Cartoon couples are considered to be more loved by people these days because they show such great chemistry and show romance in the cutest way which teenagers or couples always love. In this article, we have mentioned below a list of some popular cute cartoon couples in love.
Cartoon Couple Names
Mickey and Minnie Mouse
When it comes to cute cartoon couple names the first name that comes to our mind is our beloved mouse couple – Mickey and Minnie Mouse. This sweetheart of our cute Mickey complements him in every way with her cheery attitude and sweet nature. Both these characters always manage to make us smile with their goofiness whenever seen together on the screen. And even today, there is no kid who doesn't like the funny tales of Mickey and Minnie.
Aladdin and Princess Jasmine
This couple from an adventurous magical story is one of the most famous cartoon couples of all time. Jasmine, a spirited princess of Agrabah and Aladdin, an ordinary guy raised on the streets, together they take us on a thrilling ride on their magical carpet. And we have to admit it, they make quite a beautiful couple. Add in the theatrics of Genie to their love story and you get a magnificent magical world to enjoy.
Prince Adam and Belle
Talk about couple cartoon characters and not mentioning 'The Beauty and The Beast' will be a huge crime. We all have seen beautiful Belle falling for the gruff monster who later turns out to be a handsome prince. There are many adorable moments between these two that just makes us swoon over them. For instance, when the Beast shows Belle his library and learns to eat properly to impress her. Gah! So damn adorable! Sweet Belle also tries her best to bring peace to the poor prince trapped inside body of a beast. These two couple cartoon characters are still winning hearts every time they appear on the screen.
Tramp and Lady
There is just something incredibly delightful when we see animal cartoon characters fall in love. In such a cartoon couple name list, the very first name that comes is Lady and The Tramp. It is absolutely worth watching the pampered Lady falling for the stray mutt, Tramp. There are many cute moments that would make you go all 'aww.' Their famous poster of dining on the street has become an iconic image. For all the dog lovers out there, this is the perfect movie to binge on. Your dogs would also love it for sure.
Check These as well
Simba and Nala
And now comes the time to bow your head for a famous couple of the Pride Lands. The Lion King is surely one of the best animated movies of all time. An emotional story of Simba and how he reunites with his best friend and lady love – Nala and how they take back his kingdom. To Simba's storm, Nala acts as the calming waves. Fans love to see the chemistry between them and their love for the whole jungle. Not just they make a cute sight as pups but also make a strong and incredible couple as the king and queen of the Pride Lands. If you think that one movie is not enough of them then you can watch the sequel to the Lion King – Simba's Pride. Here you will see not just them as a couple but also as caring parents. Warning – too much cuteness in here!
Popeye and Olive Oyl
For a strong sailor like Popeye, he surely had to go through many troubles to get the love of his life – Olive Oyl. If you are a 90s kid, there is absolutely one hundred percent chances that you grew up watching Popeye. Every time he gulped spinach and his muscles popped out, Olive was there to swoon over him. Although, in cartoon series she was often mad at Popeye but a little banter is always appreciated between two lovers. Not to mention Bluto tried his best to come in between these two but Popeye and Olive stuck together strongly.
Prince Philip and Princess Aurora.
There is no denying in this truth that Disney knows how to make the perfect fairy tale love stories. The characters of Prince Philip and Princess Aurora from Sleeping Beauty are one such famous cartoon couples that made it to this cartoon couple name list. And why not, with their 'true love kiss' and their happily ever after, they have won the hearts of people all over the globe. These beautiful couple cartoon characters introduce us to all kinds of magic and jungle adventures.
Prince Charming and Cinderella
There is no girl who never dreamed of having a Prince Charming at least once in her life. Wink! And who could blame them? Prince Charming is just so handsome and swoon worthy that they all wanted to wear Cinderella's shoes (pun intended!). Seriously, who wouldn't want a guy who searches for his sweetheart by visiting every home on every street? One of the most beautiful and beloved couples of all time, Prince Charming and Cinderella are definitely worth your time if you are in for visiting a nostalgic lane or childhood dreamy mood.
Tarzan and Jane
Their love story is one of a kind. While Tarzan was raised in the wilderness of the jungle, our sweet Jane was a modern city girl out in the wild with her father for an adventure. Their meet cute moment is absolutely hilarious and extremely delightful. If Tarzan is tough and strong then Jane is also a fierce girl who knows how to tame this wild man, It is endearing to see Jane teaching Tarzan the lessons of love and it wouldn't be wrong to say that this couple has become a fantasy for many. Admit it, wouldn't you want you to be alone with your beau in a treehouse where no one is there to disturb your love cloud? So dreamy!
Donald and Daisy
Our favorite duck couple of all times. Oops! Maybe Donald and Daisy Duck are the only duck couple of all time. Our poor Daisy though often gets frustrated by Donald's stupid antics, however she loves him too much to give up on him. Both characters are shown to be terribly attracted and incredibly devoted to each other. Donald and Daisy have managed to melt each of our hearts and still continue to do so.
While we are more familiar with superheroes and their beaus, here is an amazing example of a superhero family couple. When Mr. Incredible and Elastic girl tie the knot and take us on a thrilling adventure, one can't help but bite their nails in anticipation. While their story is punched with action and drama, the chemistry between these two is also fantastic. They not just show how to fight the villains together but also how they raise their kids and bear their tantrums. If you haven't watched it yet, I suggest you do it right away. And guess what? They also have a sequel movie. So enjoy!
The Prince and Snow White
Snow White and the seven dwarfs is one of the most watched cartoon series and movies. We all hated the evil queen with all our hearts and love Snow White and her cute dwarfs. Despite of Snow White being the leading lady of the story, one cannot forget the significant role the Prince plays in her tale. After all, the princess would be still sleeping had Prince did not kiss her. Another fairy tale with the mantra of true love wins over evil, the Prince and Snow White gives us a great love story to look up to.
If you're specifically looking for cute cartoon couple love images HD for your desktop wallpaper, iPhone wallpaper or Facebook/whatsapp dp then, you should click on the button below.

Famous Cartoon Couples
Naruto and Hinata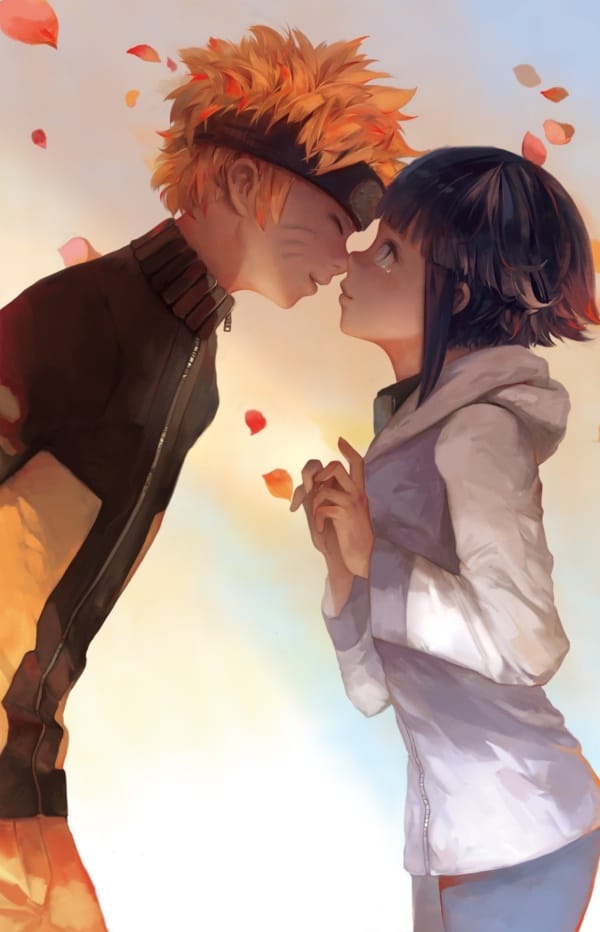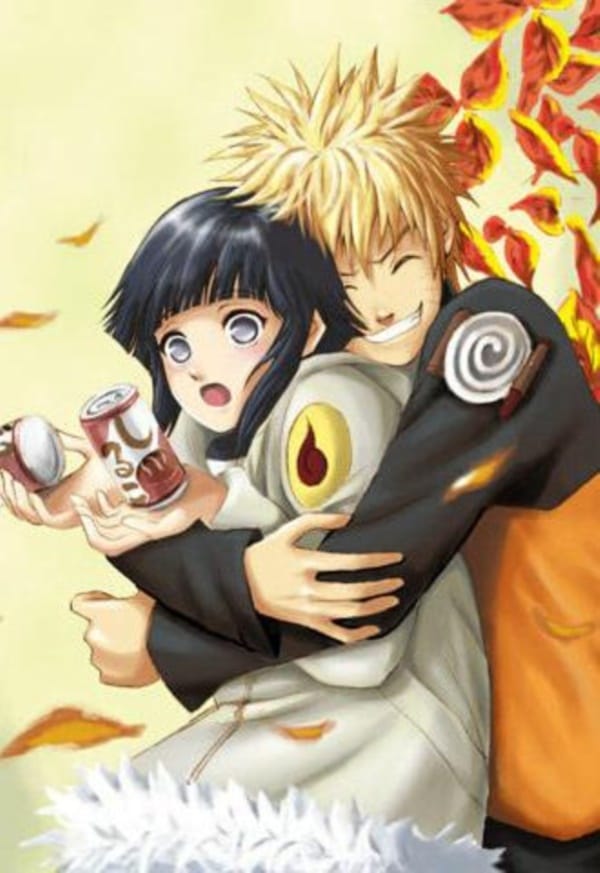 If you are a manga series fan then you know all about Naruto for sure. People all over the world are crazy for Naruto but there is also a whole lot of blogs dedicated to his love for Hinata. Fans started calling them NaruHina and this is proof enough to show that they are one of the most famous cartoon couples. Throughout the whole series, you can see their affection for each other and how they stand up for the other when the worse thing comes. You must absolutely give it a try if you are yet to get a hit of these series. But do it in your free time because you'll be hooked!
Eep and Guy (Croods Movie)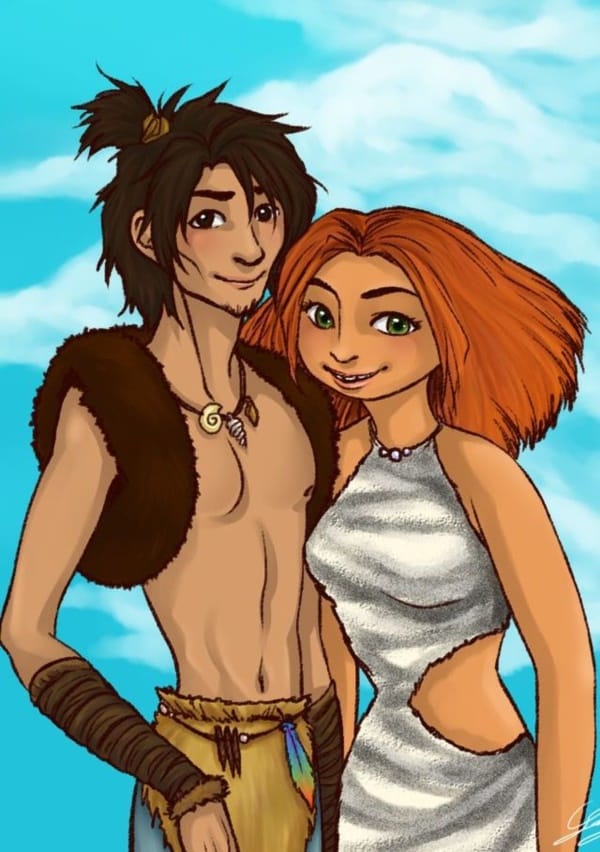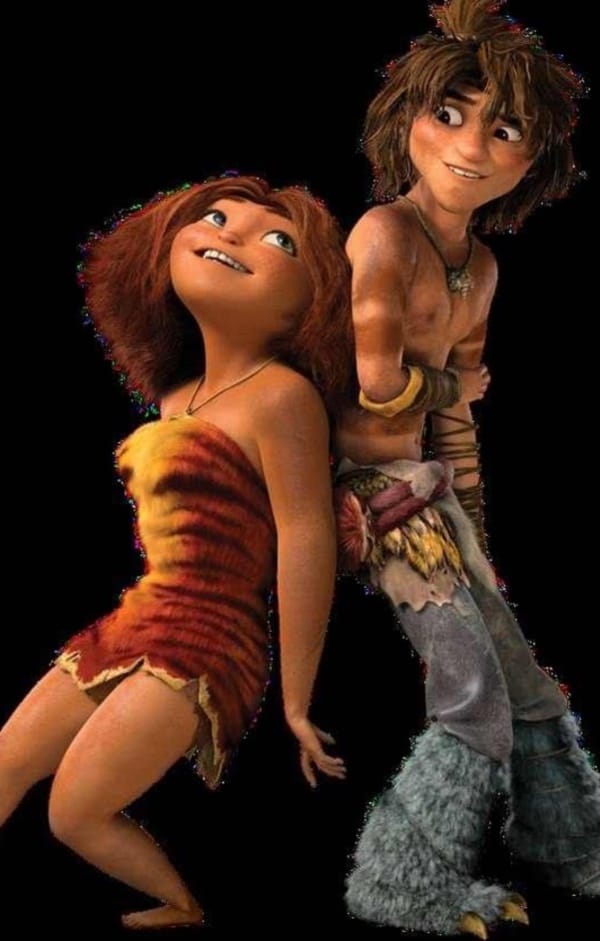 Before I talk about this couple, it is really important to talk about what a sheer delight this movie is. A must watch for sure. With that being said, let's get back to Eep and Guy and what an adorable couple they make. They pack the perfect amount of fun, adventure, emotions, and drama. And so many hilarious moments that you would be left smiling for a long time. The love story of this teenage caveboy and cavegirl would take you to the stone age adventures of this cave family and the inventions they come across.
Elektra and Daredevil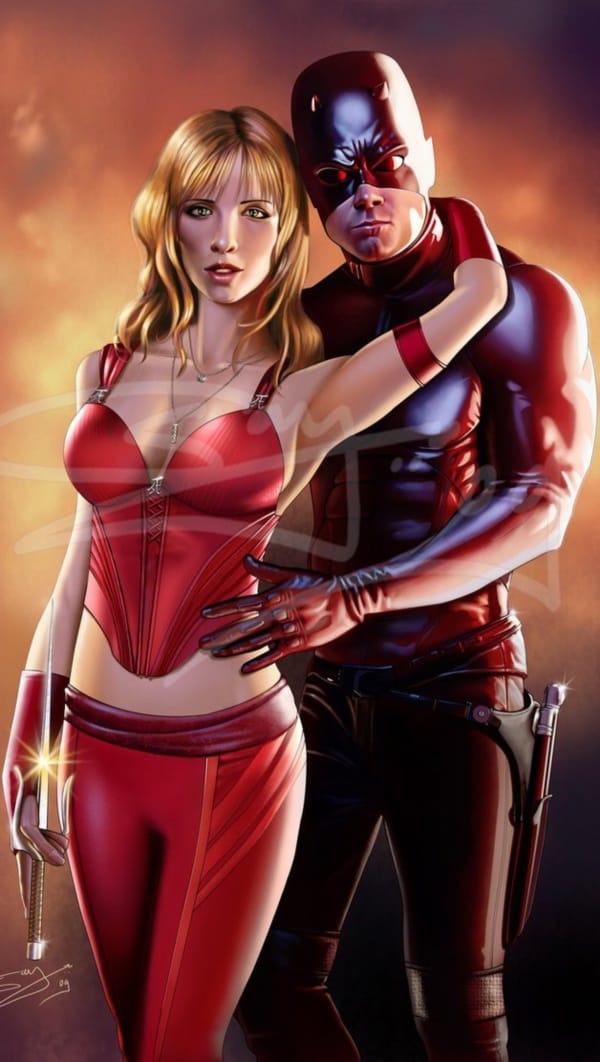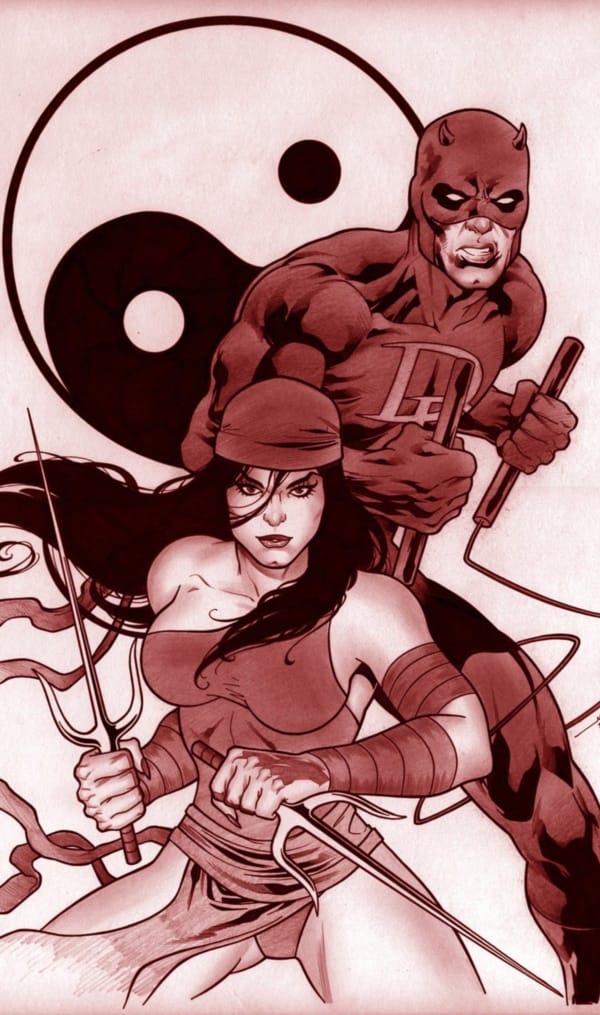 Marvel comics are incredible. So it's no surprise that these characters belonging to Marvel comic books are also spectacular. Elektra drives him crazy and Daredevil loves being crazy for her. She is a perfect fit for Daredevil who is also known as the Man Without Fear. Not just is she a highly skilled assassin but is completely capable of defeating daredevil in hand-to-hand combat. Now that is exactly what a complete badass couple sounds like. Right!
Peter Parker (Spiderman) and Mary Jane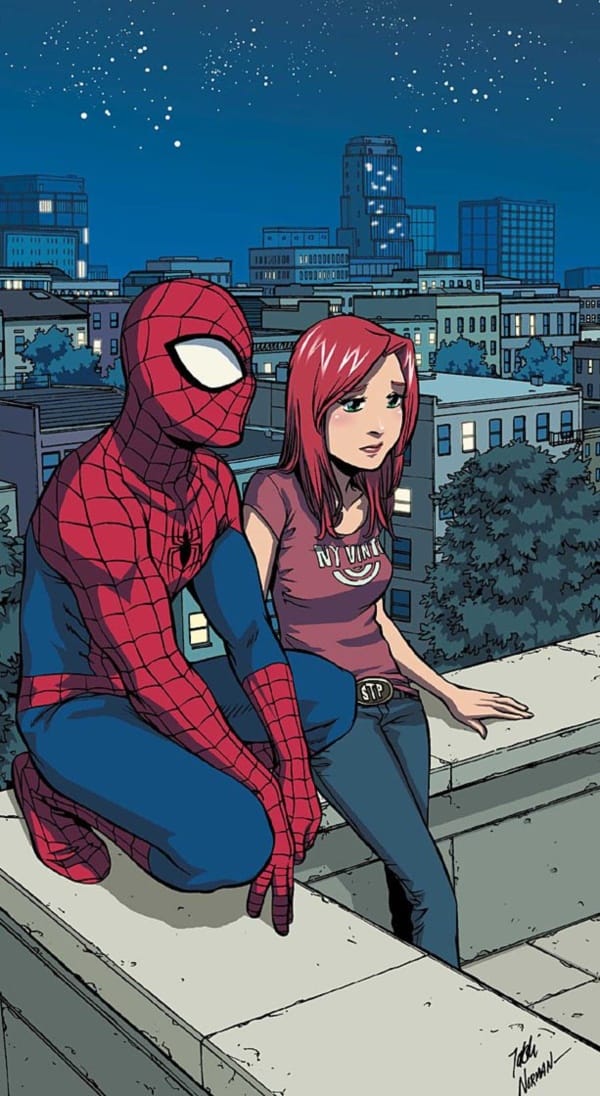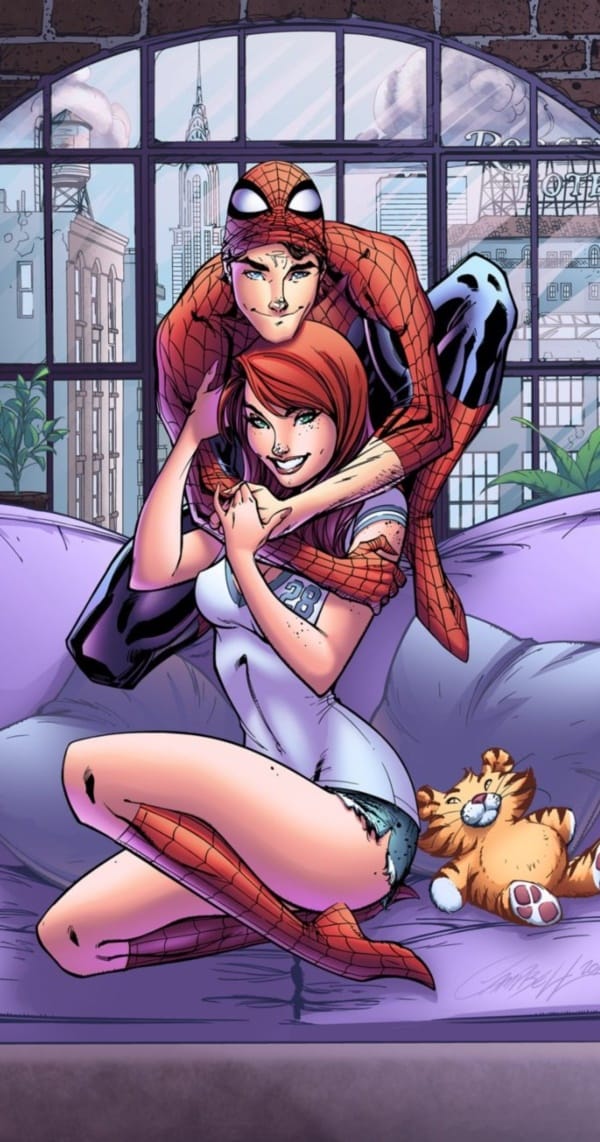 Ash and Misty (Pokémon)