If you haven't ever kept a dog for a pet, then you won't really understand the connection that a dog and its master share. If, however, you are a dog lover, then you certainly know how meaningful life becomes when you get home a dog. If you love dogs, and you want the world to know this, then you must get a dog tattoo etched on your body. Dog tattoos are not only cool but they also signify your immense love for dogs. For the most adorable and Cute Dog Tattoo Designs, you can check out the entries in the list below. Have a look-
Cute Dog Tattoo Designs
Dog paw tattoo
Cute Dog Tattoo Designs must be cute in the real sense. That means, they should be able to make anyone go 'aww…' And when it comes to such tattoos, one design that stands uncontested is the paw design. You can't imagine how adorable dog paws look, especially when you get them etched on the skin.
Geometrical dog tattoo
Geometrical designs have the ability to attract attention. And that is why they are so much loved. And when it's a dog's face that is being portrayed with the help of geometrical patterns, the attractiveness grows hundredfold. Creating a dog with geometrical shapes needs expertise, so approach an expert for a flawless tattoo.
Dog portrait tattoo
If you love the face of your dog, and you think it acts as a lucky charm for you, then get a dog portrait tattoo inked on your body. These tattoos look amazing on arms and backs. But if you want to get one inked on some other part of your body, then sure go for it. But make sure you haven't chosen a place as odd as the calf or the belly.
Dog collar tattoo
Dog collars are as cute as dog themselves are. And you don't always need something as obvious as a dog portrait to show the world that you love dogs. Sometimes, a dog collar tattoo is enough to express your love fully. Besides, these tattoos are overly popular across the world. So, no matter where in the world you stay, you can flaunt your love for dogs through a dog collar tattoo inked on your body.
Name of your dog
Snoopy or Oscar, whatever the name of your dog is, get it etched on the skin. After all, it's the name that stays, even after a dog leaves you forever. You can also get this tattoo inked for some dog that isn't alive anymore. It will mark your love and respect for the deceased dog.
Paw and hand tattoo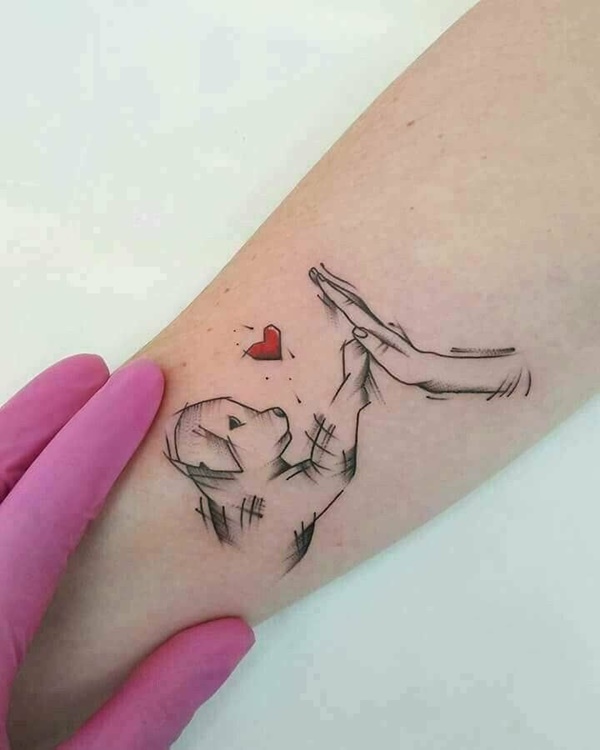 Image Source
Not all Cute Dog Tattoo Designs are as adorable as the paw and hand tattoos. This is one such tattoo you will blindly go for if you are head over heels in love with dogs. And why not! The bond of a dog and its master that gets reflected in this design is inexplicably beautiful. But because this is an elaborate design, make sure you get it inked by expert hands only.
Minimalistic dog tattoo
You don't need extremely intricate dog tattoo designs to impress onlookers. Sometimes, something as simple as a dog inked using few curved lines can look more appealing than an elaborate tattoo.
If you always remain fascinated by the dogs, or you're finding a perfect name for your four-legged friend, then, don't forget to know about best dog cartoon characters.
The best thing about the Cute Dog Tattoo Designs listed above is that they are not over-the-top. Yes, they reflect your love for dogs, but in a very subtle manner. And that is probably the reason why the tattoo ideas given above are perfect for both men and women. Anyone can get these tattoos done to mark their love for their dog.