Kids are always fascinated about rocks, different shaped pebbles and stones since childhood days. Kids love to use stones to create various rock painting designs and homemade games in just few seconds. Not only kids, pebble painting ideas are an ideal choice for adults as well – whether you're hoping to create some impressive, cost effective decor for your home or just looking for fun crafts to do with your kids.
In this post, we've gathered up over some of the best and easy rock painting ideas for kids. These paintings are easy to do and amazing to look at! Seriously, you'll feel proud to tell others that this is a rock. Check out these ideas and get inspired to paint a rock for your mom/dad or the person you love most so that they can use it either as a paper weight or make a pebble mosaic.
Easy Rock Painting Ideas For Kids
Bright, Shiny Heart Rocks!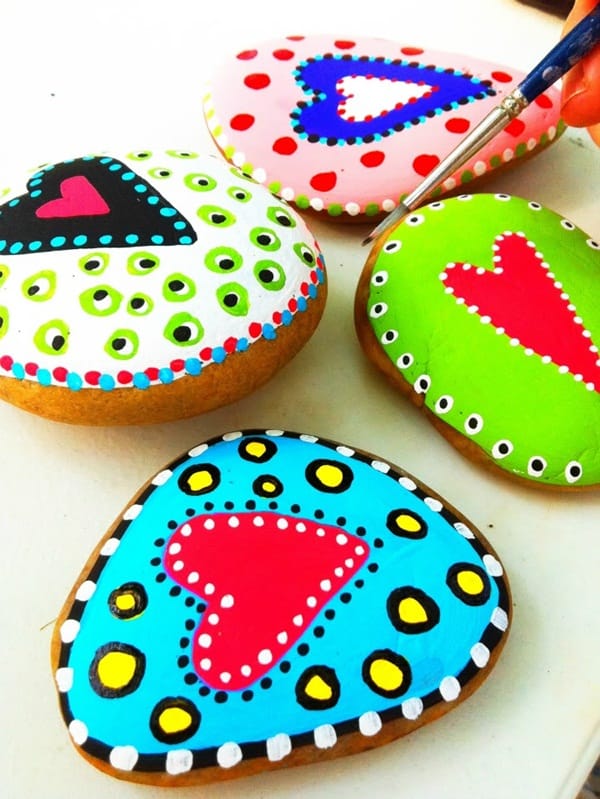 Image Source
This is really a cool idea for kids, parents and teachers! Yes, giving friends and loved ones handmade 'ROCK HEARTS' seems to be one of the best paintings on rock ideas 2017. They can keep such brightly colored hearts next to their alarm clock as a reminder of how much you care about them!
Frog Prince Rock Buddy!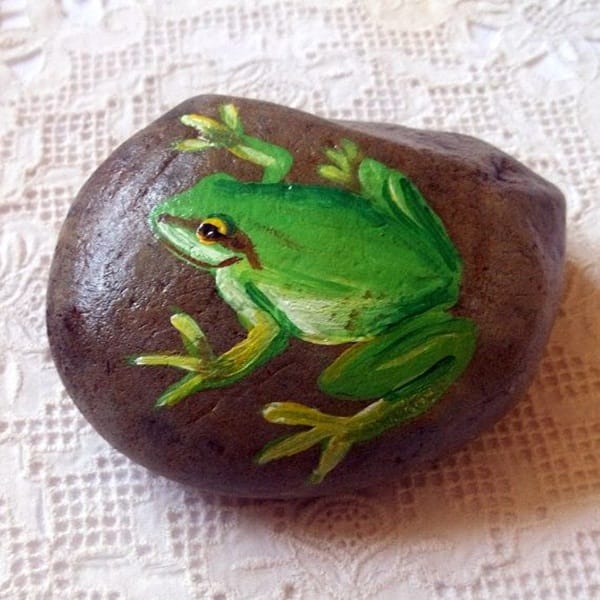 Image Source
Just see it's so easy to transform an ordinary rock into a fabulous frog prince rock painting design! It's an easy preschool craft for both boys and girls and they will definitely enjoy. Ask your kids to make a whole gang of these cute critters with foam and colorful painted rocks.
Halloween Painted Rocks!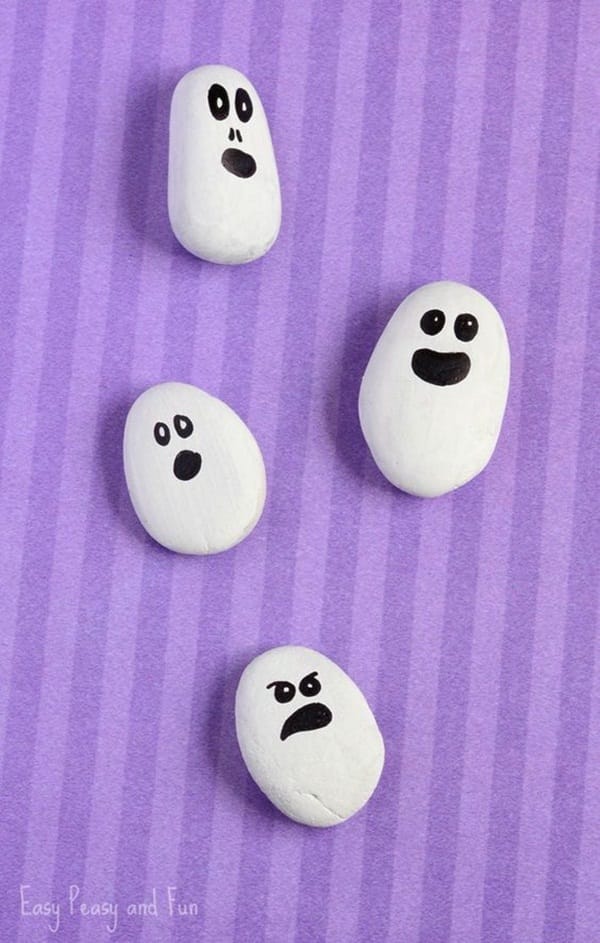 Image Source
Are you looking for inexpensive and easy rock painting ideas for kids this Halloween? Worry not! Simply head out to your backyard to start the fun. Let your kids hunt around the yard for different shaped rocks, long and cylindrical shaped rocks for ghosts, oval shaped for spiders and a big rock for a great pumpkin effect.
Pet Rocks!
A pet rock is a great alternative for such parents who wants to have a pet at home for their kids but does not have enough space or time to take care of them properly. Using a big rock and some basic craft supplies your kids can create their personal favorite pet and this seems to be great pebble painting ideas to enhance your children creativity.
Rock Paperweights!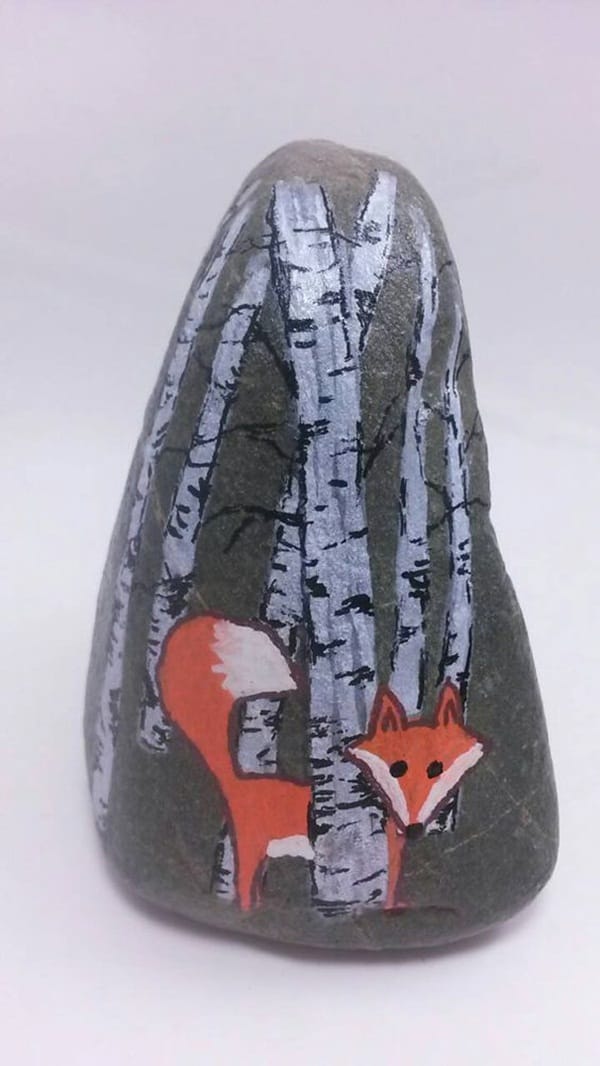 Image Source
Looking for easy rock painting ideas for kids? This summer, if you're planning to spend vacations at a small cottage or near a beach area, help your kids in making rock paperweights as amazing painted rock ideas that will in turn keep small hands active.
Party Pebbles!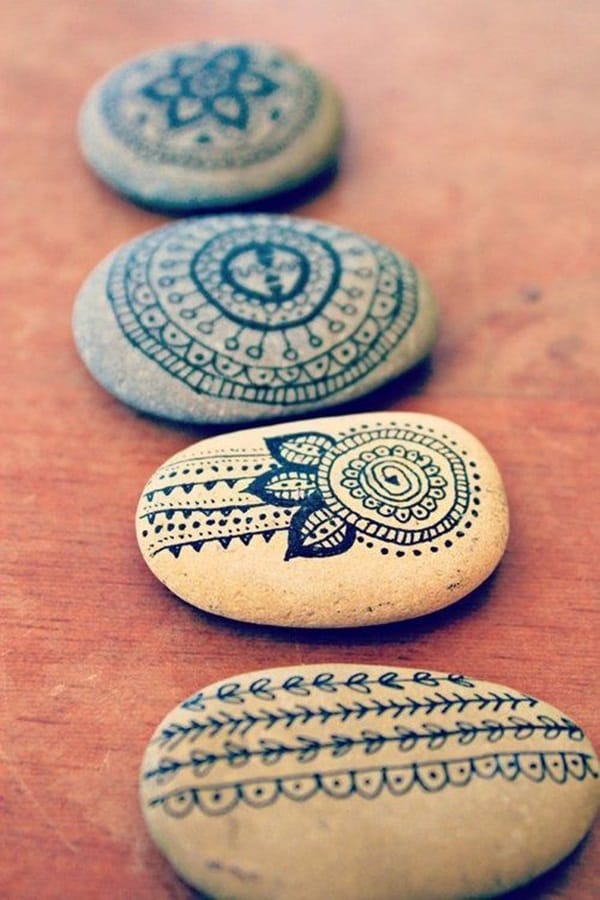 Image Source
Need a quick and innovative party favor, napkin holder or decorative item? Start by collecting interesting rocks from the nearest park, beach or lake side and ask your kids to color them attractively and sprinkle dust sparkle on them for an outstanding party look. This seems to be one of the easiest rock painting ideas for kids.
Rock Bugs!
It's so pleasing to watch rock bugs all day long, especially when made by your kids, agree! Allow your kids to create their favorite insect rock out of natural materials and pose them around your garden area. It's an excellent summer painting on rock ideas.
It's important to note here – the rough surface of any rock will eventually destroy brush although washing them clean in water immediately after use and laying them on flat surface to let completely dry will mean that they will last longer. And, do you know what kids love most about painted rock ideas is the chance to try a classic nature craft with waste materials? Using 3D paints, to give rock painting designs whole different look and texture!