Art of painting and drawing has gain the popularity now, as we are blessed to have advanced technology and facilities. But it was not so easy a century ago. Moreover, it's not only about the art but the artists and their recognition around the world. Today, we got you one legendary artist soul with his art pieces. Yes, below given are the famous Pablo Picasso paintings and art pieces.

Famous Pablo Picasso Paintings and Art Pieces
Let's get some info about Pablo Picasso before you admire Pablo Picasso masterpieces. Well, what about his name? Yes, Pablo Picasso is not the only name he's born with instead you better call him 'Pablo diego Jose Francisco de Paula Juan Nepomuceno Maria de los Remedios Cipriano de la Santisima Trinidad Ruiz y Picasso'.  He's a painter, sculpture, Stage designer and print maker. Woah! What a name he has. This artist (1881-1973) was born in Spain and has started his art work in childhood hood days.
Guernica:
This one was the one of best anti war paintings in the history, created in 1937.  Painting had various touring in plenty of exhibition around the world and has gained handsome revenue for Spanish war relief.
Les Demoiselles d'Avignon:
1907 was the year when Pablo created this oil painting depicting five prostitutes in brothel.  However, this painting was seditious and controversial yet gained the popularity later.
The Old Guitarist:
Right now, this insane painting is on display in 'Art institute of Chicago'. This flat and two dimensional painting portraying an old man playing guitar can touch your heart.
The Weeping Woman: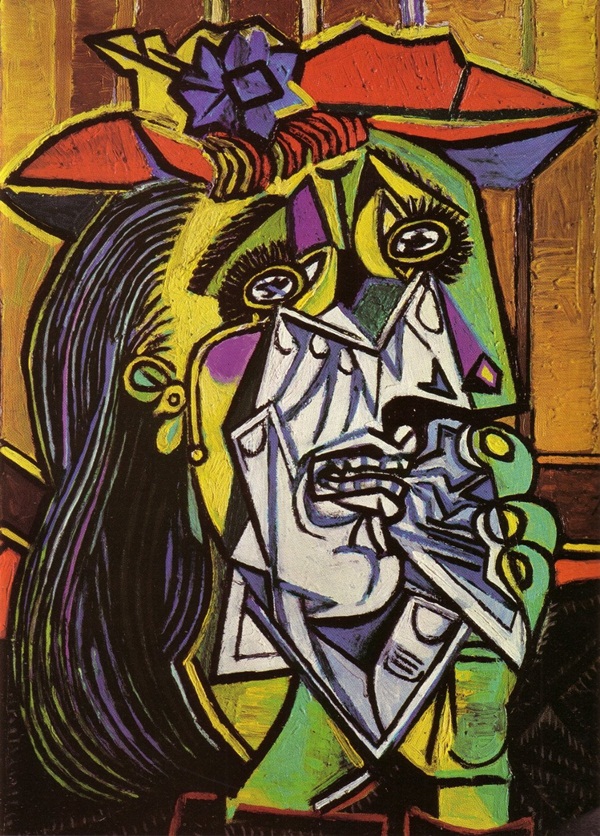 Image Source
Pablo created this oil on canvas painting in France.  This painting depicts the weeping woman and her sadism, tortured.
Girl before a mirror:
Well, this is not a painting as he portrayed his wife via this art. The way he view his wife and his wife view herself in mirror has been shown in this panting.  And this one's his best master piece ever.
Nude, Green leaves and Bust:
Marie-Therese Walter was his mistress and this art work is dedicated to her and her beauty.
Here are some interesting facts about Pablo Picasso:
Jose Ruiz Blasco (Pablo's father) started teaching her painting when he was just 7 years old.
Jose believed that Pablo was a better painter than him so he left painting.
Pablo crafted his very first painting himself when he was nine.
Pablo's artworks can be easily found in any museums around the world.
When he was thirteen years old an art school rejected him because they thought there is nothing to teach him as he's best himself already.
Famous Pablo Picasso paintings and art pieces has been displayed in various international exhibition and earned awesome revenue. Many of this paintings are used by art schools and museums around the world, moreover, few of them has been sold out on highest price.
Now, if you think famous Pablo Picasso paintings and art pieces can inspire you and makes you fan then you can try your hands on canvas as well. There are peoples who love to collect famous paintings at any cost, but you can't have them from auction but least you can do is, get the print out done and paste painting on wall.
Pablo paintings depicted the cubism beautifully and he himself was soul of artist. If you liked his art work and want to share your valuable feedback, feel to drop us comment in comment section. And don't forget to share this post with your pal and relatives, especially to the art lovers. Have fun!