What comes to your mind when it's about Harry potter? Well, first one is the inspiring author behind the history making novels, J.K. Rowling. You may have seen all movies and read novels, moreover, have gone to the Harry potter theme parties, right? Now, the question is what else would you like to do or try in order to live like true fan of Harry potter. Are you a tattoo lover and want to décor your body or flaunt your sexy curves along with a tiny and cute harry potter inspired tattoo. Scroll down to check out unique Harry potter tattoos.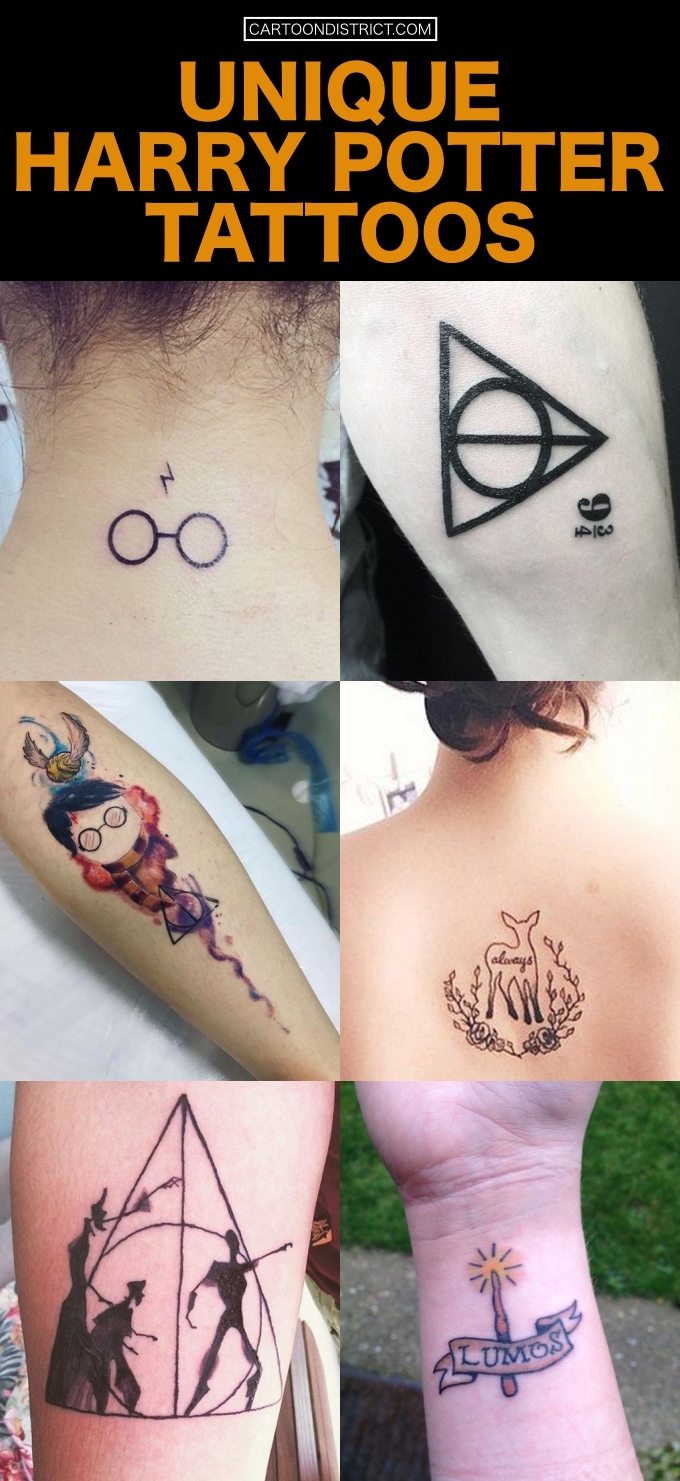 Unique Harry Potter Tattoos
Engraving a tattoo does not mean you need to be a fashionista rather being a real fan is enough and that only matters. Harry potter character is widely famous among youth and kids as well. Engraving the tattoo of your favorite fictional character is no more a new thing to world now.
Harry potter specs:
Just simple and sober Harry potter specs, no color, no complex design and its tiny size on neck. Unique Harry potter tattoos are for both girls and boys so is this specs tattoo. Moreover, apart from this black ink tattoo you can add color and make it look more appealing and inviting. Now, it depends on your choice and artwork of your tattoo expert.
Badass death eater dark mark tattoo:
When it comes to unique Harry potter tattoos, badass and hardcore designs are always appreciable among young generation. Just look at the tattoo design carrying skull along with snake head can get you terribly touching masterpiece to admire your love for harry potter. If it's about badass personality, here are more fictional characters that you can look for. 
Deathly Hallows tattoos:
This belongs to the final chapter of Harry potter series! Moreover, this triangle making tattoo design could be considered in geometrical tattoo design niche with its deep meaning regarding the life and living lives. However, deathly hallows tattoo design is unique itself but you can ask your tattoo artist to get you the brand new one.
Platform 93/4 inspired tattoo: 
Remember Hogwarts express and magical 93/4 platform? Yes, this is your piece if you are looking for the unique harry potter tattoos. Although, the design is simple but you can craft it as per your requirement.  
Marauders footprint tattoos:
These tiny footprints can cherish you the remarkable moments of harry potter series. Have you ever imagined of having a small tattoo on wrist? If nodded your head then grab this design and flaunt it anytime and anywhere, no matter whatever your attire is.
Life-saving Deer:
Yes, that shining soul of deer near the lake saved Harry potter's life and that's when the mystery of Harry potter's father resolved. Now, you can have this tattoo with two reasons, it could be yours because you want a deer tattoo as you love peace and calm animal, moreover, this life-saving deer can bring you the magical flavor of Harry potter story.
The famous and fast golden ball:
This is the first ever flying ball that world could see in any movie and is known as golden ball, it's really fast! Consider your dream as this ball and your hard-work as wings and you can fly high to reach your life goals. Indeed, the dark shade of black is also a fantastic idea to have this tattoo, though it's golden in real as shown in movie.
Kiddo Harry potter himself:
Cutest, smallest and the best- these words are enough to describe this one of the tiny and unique harry potter tattoos. The thing is- small design requires small space but if you want many design and still want to go with little space or the body part then this one's for you. This masterpiece can have you Harry potters itself, golden ball, specs and deathly hallows.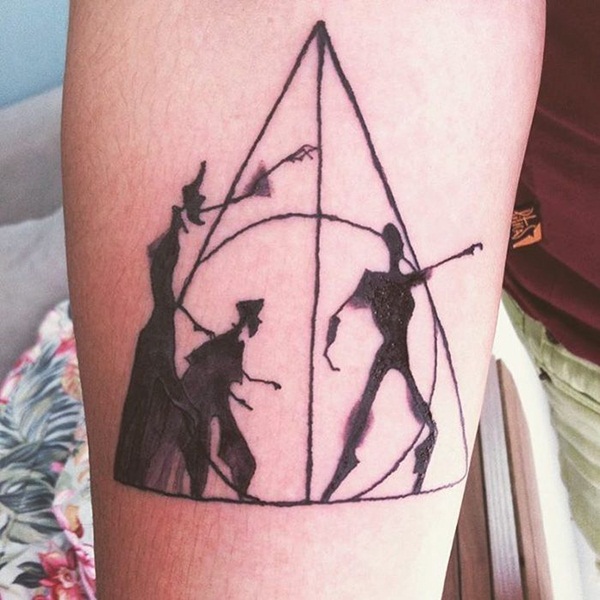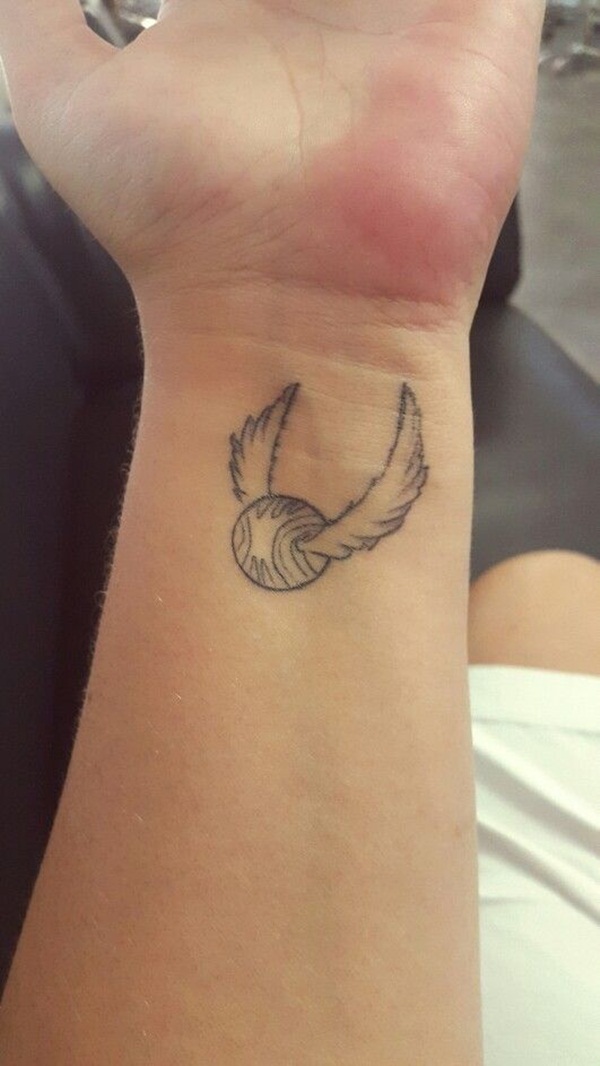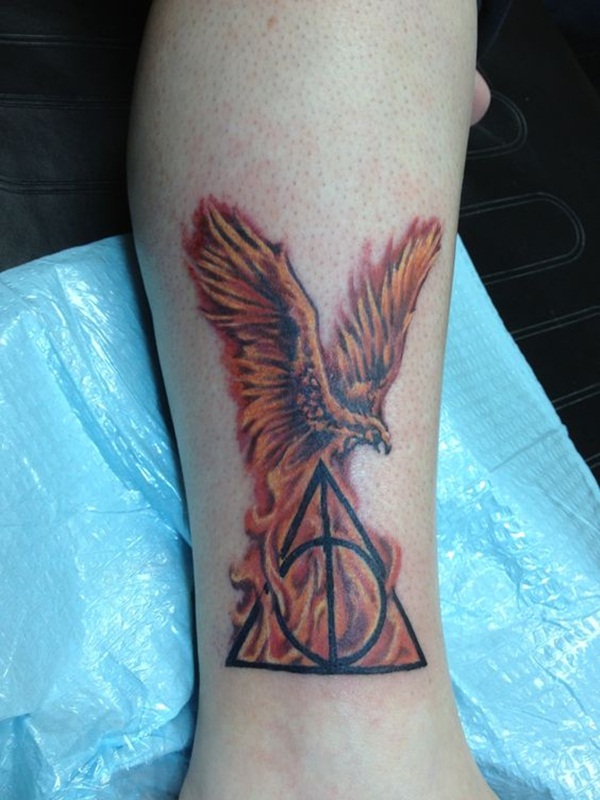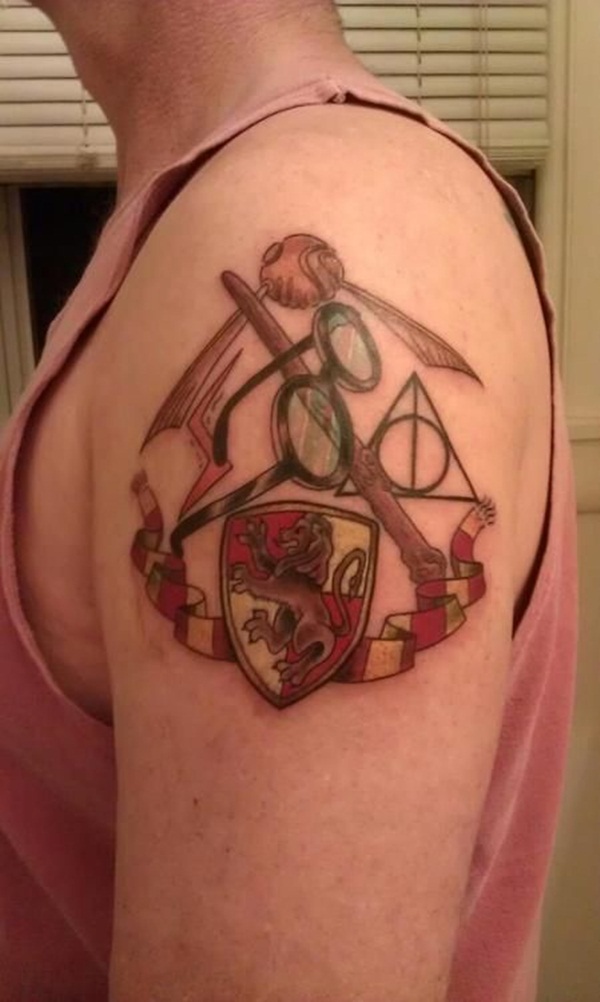 Being a true and die-hard fan of harry potter, there are various things you can and want to do just like getting inked. Feel free to share these catchy unique Harry potter tattoos and let us know your feedback in comment section. Have fun and keep enjoying the mysteries of Harry potter.