With the god's grace, you are soon to be mom and dad of a little munchkin. He will soon be in your hand and you are going to experience the unforgettable feeling you are dreaming of. As you know it's a boy and he is the one who is going to light up your world with joy, it is time to celebrate. Are you planning a baby shower? If yes, no need to be panic for the unique theme for the baby shower. We have best Baby Shower Ideas for Boys that will help you make your event memorable. Have a look at these cute themes for your cute little guest.
Baby Shower Ideas for Boys
Creamy Theme With Neutral Colors
This creamy theme is full of peace and calm environments like the moon and milky sky. You can add the vintage touch with the curtains and find table covers wholesale as well as table decorations that would match your theme. 
Cheerful Detailing In Yellow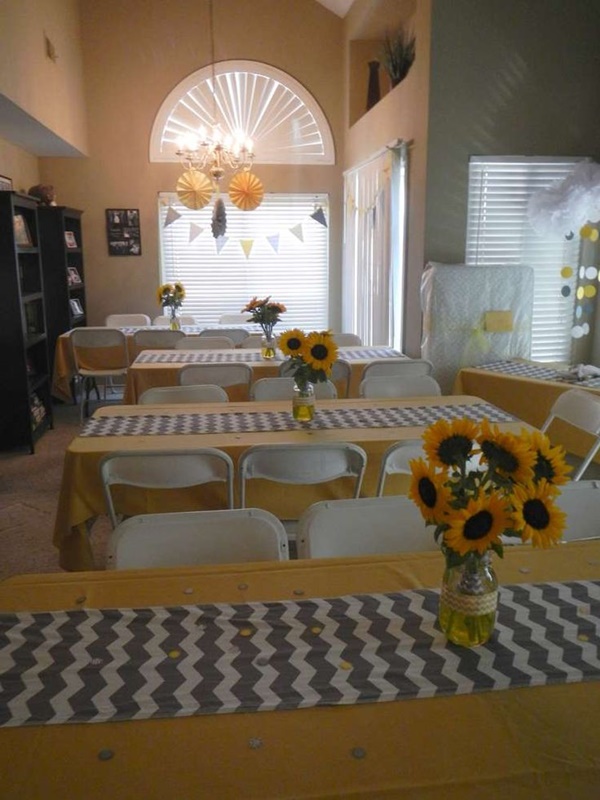 Image Source
This is the best of all the Baby Shower Ideas for Boys that gives perfect platform for the celebration. Get printed fabrics for this theme for a cheerful decoration.
Baby Bun Theme For The Baby Shower
As your munchkin is being created in your womb like the bun in the oven, this theme is perfect to blast the news that it's a boy. Craft a cardboard oven and decorate the table with buns.
Decorate With The Blue And White Colors
Blue resembles that it's a boy and white becomes the perfect combination for the decorations.
Bobby Print Theme With Different Circular Shapes
Cute bobby prints are always preferred for the baby shower decorations. Get the bobby print fabrics for curtains and tableware. Try to choose circular cookies and desserts for this theme.
Monster Theme To Celebrate Your Little Monster
Your little monster is on the way and what else can be the best idea other than this monster theme.
Ocean Theme For The Fun Baby Shower Party
You can get your indoor decoration done in the theme of the ocean with the curtains and tableware in ocean blue colors. It looks cool and fun for the baby shower party.
Cool Green And Blue Shades In The Theme
This one is best in all Baby Shower Ideas for Boys for hot days. It is relaxing and cool for eyes. You can ask your guests to dress in the same theme to complete the party look.
Outdoor Candlelight Baby Shower Theme
This theme is best for backyard decoration if you are planning your baby shower party in your backyard. Candle lights are perfect to illuminate your backyard with natural light.
Bees And Birds Theme
Little bees and birds crafted from cardboard and craft papers will be enough for this theme. You can also have desserts and food in the same theme.
Classy Outdoor Decoration
This classy theme needs your backyard items for the decoration. The old plank can be painted with floral designs. Decorate a table with homemade desserts and it is done.
Dinosaur Theme
You can do decorations with the fabric having dinosaur print. keep small dinosaur toys on table and racks.
Mustache Theme For Your Baby Shower For Boy
As it is confirmed that it's a boy, you can have a mustache theme for the celebration
Affordable And Cute Theme
This red and blue theme is budget friendly. you just need funky cake design and cupcakes for the table decoration.
Cheesy Cute Owl Theme
Hang cute little owls crafted with creativity to decorate the venue with this cute owl theme. You can DIY tree at the corner to add in the decoration.
Above Baby Shower Ideas for Boys must have stolen your heart with the colors and unique themes. Now you have to gather that tableware, banners and other accessories to get the theme done. Be creative with the ideas and themes to add your flavor. You can give the listed themes your special touch with your creativity. Gather all the assets you need to create jaw-dropping baby shower event. Create a lovely environment that will please the mom to be and hence to the little one inside her.