When preparing to order materials for commercial bathrooms, bathroom stall dimensions are very important. You'll need a little planning to make sure that the installation process will be flawless and smooth.
Creating an ADA compliant bathroom can be the most intimidating process of the entire project. Bathrooms are typically inspected very closely, and one mistake can jeopardize the timeline of your opening. Make sure to pay attention to just a couple of areas, as this will ensure your compliance. Also, make sure to check with your local inspector before you rely on this information. Even if you're technically correct, you're not getting anywhere if you argue with an inspector.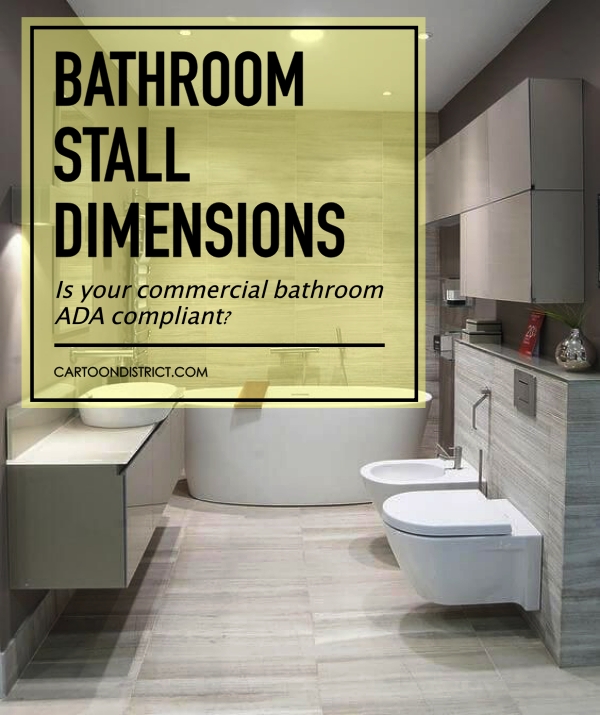 Commercial bathroom partitions may require a custom layout. Custom layouts aren't expensive anymore, but they're also not as common as a standard 3' compartment. The layout dimensions need to be accurate if you choose to have a company quote your bathroom partitions. That's because most bathroom partitions can't be cut in the field during the installation. This could only damage the partitions unless the material is made of solid plastic.
How the Americans with Disability Act Affects Bathroom Stall Dimensions
The Americans with Disabilities Act is a mandate that prohibits any discriminatory action against those who have disabilities. This means that all new commercial facilities must be designed and constructed to be usable and accessible by all disabled persons. It also means that all structurally practicable facilities are updated to standard, based on the provided standards for accessible design.
Is there a fine for violating the ADA Standards?
The answer is yes. If your facility doesn't meet the federal guidelines, then the laws ill be enforced at a federal level. If you fail to maintain documented standards, then this can result in fines not exceeding $50,000 for the first violation, and not exceeding $100,000 for the succeeding violations.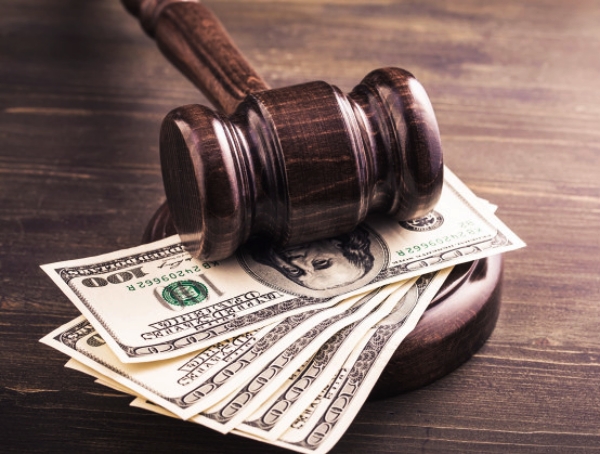 For you to ensure all accessibility-compliant urinal screens, toilet stall partitions, and other accessories are installed correctly, make sure to check the architectural requirements and use the provided diagrams.
Understanding Your Bathroom Stall Dimensions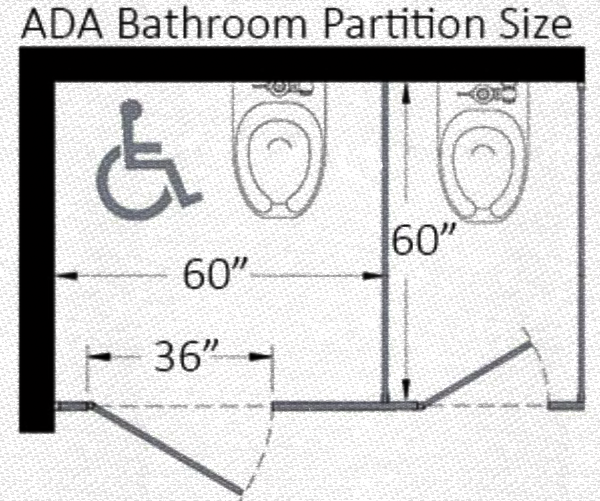 Here are some important things you need to know about bathroom stall dimensions:
The best route for all bathroom partition quotes is a simple overhead layout.
The layout should include how deep and wide you want your compartments to be. It should also include where your walled tiles are.
Make sure that you're measuring exactly where the partitions will be placed, since bathrooms aren't always exactly square.
Standard bathroom stalls should be 36" wide and 60" deep.
The minimum dimension should be 60" wide by 59" deep on the inside. This will need to be a 36" door so that a wheelchair can fit through.
For ADA handicap compliance compartments, all new construction should have out swing doors, with no more than 4" from the corner diagonally to the toilet, with 18" center from the nearest partition or wall.
Bathroom stalls can have a minimum depth of 48" up to 78" depth if necessary.
Ambulatory accessible compartments should be 36" wide at a minimum. It should also have a handicap door, which is usually 32".
What are your options for bracing the bathroom partitions?
Overhead brace floor-mounted partitions are the most common in the USA. This is an easy installation and doesn't need any ceiling or special flooring. The most economical solution for high traffic areas and overall height should 82".
Floor-mounted partitions are good for lower ceilings and lower-traffic areas. The overall height should be 70".
Ceiling hung partitions are good for easy floor maintenance, with a clean and contemporary look. The maximum ceiling height should be 123.5".
Oversize panels and doors (for extra privacy) are also available. The maximum height for a door should be 71 ½" and the panels should be 76".
Floor to ceiling braced bathroom partitions are the best option for high traffic areas. The maximum height for a door should be 122".
Bathroom Stall Dimensions: Understanding the Material Options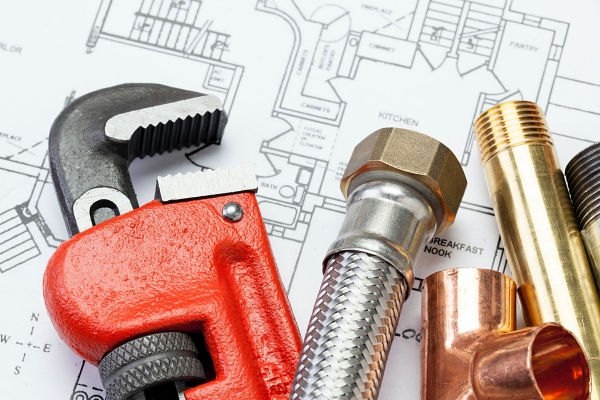 Powder-coated steel is the most used material in the USA. This product is spray painted on top of steel with honeycomb cardboard on the interior so it can support the doors, panels, and pilasters.
Plastic laminate is used for commercial businesses, churches, and facilities with less traffic. The laminate comes from Wilsonart or Formica and is adhered to particle board on 6 sides.
Solid plastic material is high-density polyethylene, which is made to last for 30+ years. It's very durable and moisture-resistant. This product is mostly used in high schools, pool restrooms, and more.
Stainless steel has a brilliant smooth surface and is great for easy maintenance. This is commonly used in airports, high-end restaurants, and more.
Solid phenolic comes in black core and a color-thru option. The color-thru is similar to the solid plastic, but it has a very smooth texture.
How to Make Sure Your Bathroom is ADA-compliant?
Bathroom stall dimensions and partitions are classified as either an alternative stall or a standard stall. The minimum width of a standard stall is 60". Two alternate stalls are permitted, but only for alterations. One alternate stall must be 36" wide, while the other alternate stall must be a minimum of 48" wide.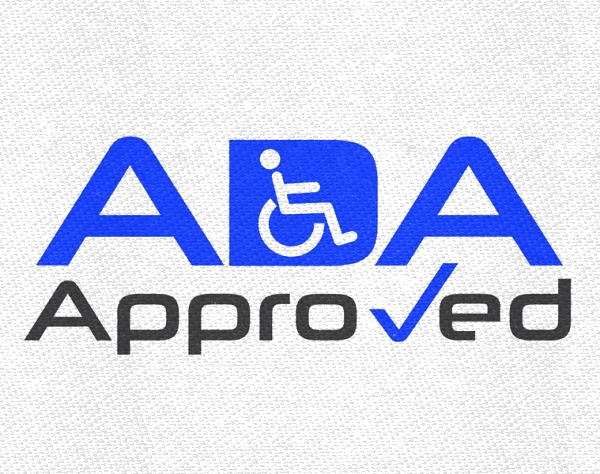 Toilets and toilet seats must have a height between 17" and 19" if the facilities are heavily used by younger children. Below are other things you need to know to ensure your commercial bathroom is ADA-compliant:
In standard stalls, the front partition and at least one side partition must provide a toe clearance of at least 9" above the floor. If the depth of the stall is higher than 60", then the toe clearance isn't necessary.
The opening for toilet seat cover dispensers should be mounted between 15" and 48" off the floor, away from the toilet, but still accessible.
All door latches should have tight pinching, twisting of the wrist, or tight grasping to operate.
Urinals measured from the back of the urinal to the front edge of the base should be at least 13.5" deep. The operative part of the flush valve should be mounted at least 48" or 44" above the floor if the urinal can create 20" of reach.
Any urinal screens that extend beyond the front edge of the urinal reem should have a 29-inch clearance between them.
Soap dispensers need to be mounted at most 44" above the floor.