So many of us have enjoyed the exciting and immersive world of Lego. With a huge variety of sets and themes available, it's no wonder that many of us have kept up our collections well past our childhood.
While Lego is the perfect toy for people of all ages when your child has developed their Lego building skills and is ready to take the next step, where do you start? The answer is Lego City!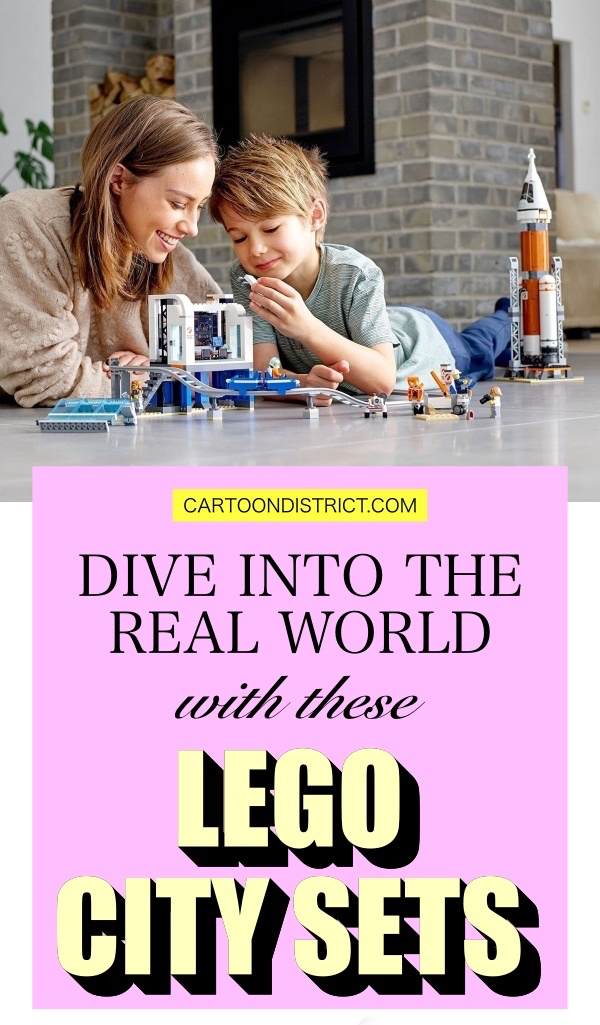 Lego City sets have been designed for the little ones who are ready to develop their Lego world and connect it to their real world. Lego City sets are aimed at kids ages 4 and up and offer them the chance to create sets based on things they see in the world around them.
The building process of Lego City sets is generally a little more challenging than what your kids may be used to, but at the end of the build, they are rewarded with a real-world set they can use their imagination to play with.
If you think your child (or you) is ready to take on the challenge of the Lego City world, then keep reading to learn about the best lego city sets you can buy today.
Dive in Lego City With These Sets
LEGO City Stunt Park (60293)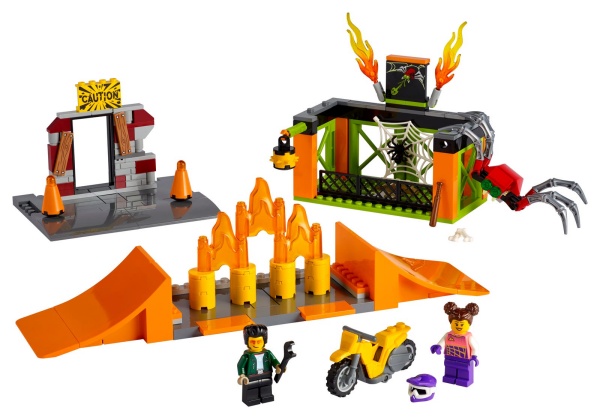 Let's get this started with a bang!
Who doesn't love some extreme sports?! Well, with the Lego City Stunt Park set, that is exactly what you're getting.
In this set you can create your own stunt park for your new flywheel-powered Lego motorbike, so your Lego folks can do all sorts of tricks and stunts.
Your stunt park set includes 2 launch ramps to get those tricks started, extreme obstacles like fire and a spider cage, a Minifigure to host the event, and of course, the flywheel-powered stunt bike.
The set designs for your new extreme action park are ultra-realistic and can be used in a variety of different ways, able to be reconfigured fast and on the fly! And with the flywheel-power of the motorcycle, your child can send the bike soaring with some sick tricks that will get the crowd roaring.
Like any other Lego City set, this one can be combined with others and used to construct an entire town!
LEGO City Police Patrol Boat (30277)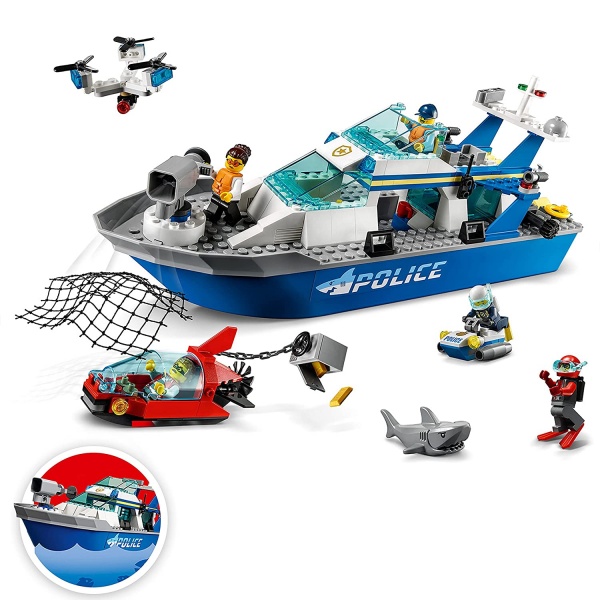 We all secretly think that a high-speed police chase would be pretty thrilling, right?
Well, what about a police chase on a boat?
In the Lego City Police Patrol Boat set, you've got everything you need to not only catch the bad guys but keep them locked up as well. As part of this set, you will build your Lego Police boat, a drone, a mini-submarine, and a scuba scooter. The set also includes accessories like a bank safe (with gold bars), diving equipment for your police diver Minifigure, as well as a shark to ramp up the action.
And as if that isn't enough, the boat actually floats, so your kid can act out these police chases using real water.
Your child can keep their Lego City world safe with their very own police patrol boat set.
LEGO City Ocean Exploration Submarine (60264)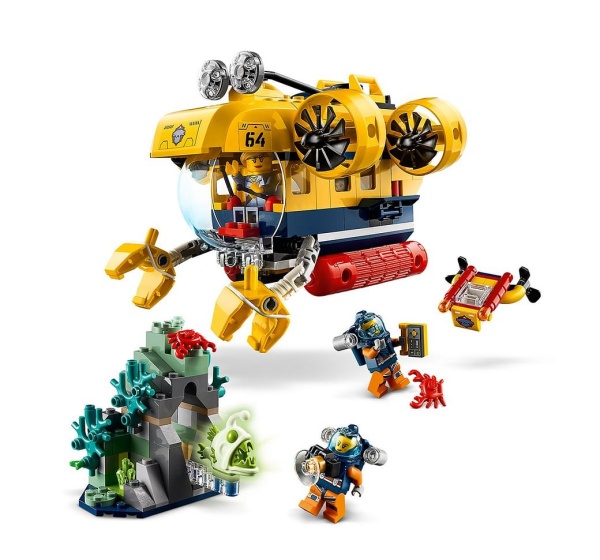 Sticking with the water theme, your child can use their imagination, and their Lego City Ocean Exploration Submarine set to explore the incredible and mysterious underwater world.
The main feature of this set is of course the submarine, but it also includes an underwater drone, a sea-bed cave setting with marine critters including a glowing anglerfish and a hidden treasure chest, and 4 Minifigures that are ready to take on this exploration adventure.
Many kids are fascinated with the ocean and marine wildlife and this is the perfect setting to allow them to explore this underwater world. They can use their imaginations and incorporate other Lego sets, including the police patrol boat set we mentioned above, to create an endless playtime opportunity.
LEGO City Fire Command Unit (60282)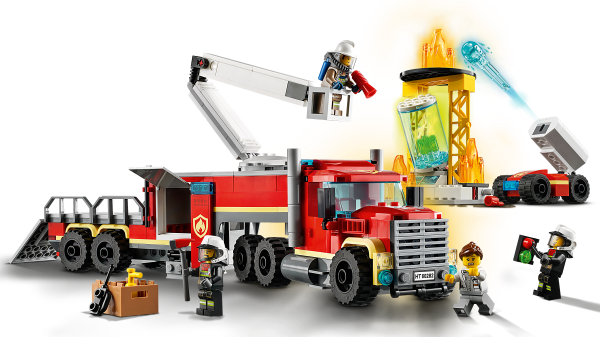 What does every town or city need to stay safe? A fire station of course.
Your child can channel their inner local hero by protecting their Lego City sets with the City Fire Command Unit set.
This set includes all of the trimmings to protect your Lego City residents from fire (and any other mishaps) with a classic fire engine truck that includes a functioning cherry picker arm.
But what emergency needs your help? Well, it's a fire in a science lab, so of course, this set includes everything you need to build the lab and the fire!
Also included are your local fire department hero Minifigures – Bob and Feldman, and even Toastie, the firefighting robot! A water cannon to shoot Lego water elements to knock out the fire is also included.
Combine this set with your police patrol boat set and you're building the perfect water-based Lego world!
Keep the residents of Lego City safe and protected with this Fire Command Unit set.
LEGO City Deep Space Rocket and Launch Control (60228)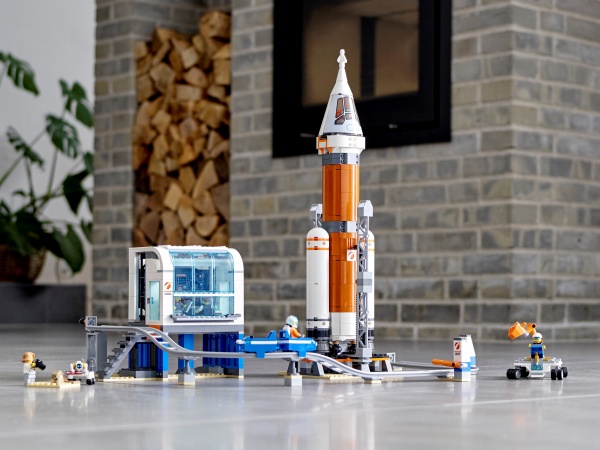 Who didn't dream of being an astronaut? Exploring space and walking on the moon – these were all the sorts of things we imagined doing as kids, and while it might be a while before we get to set foot in outer space, it doesn't mean you can't play pretend.
That's what the Lego City Deep Space Rocket and Launch Control set is for. A little bit more of a challenging build than some of the other sets we've talked about today, this one is aimed at the Lego builder aged 7 & up and includes everything you need to create your space station.
Besides the multi-stage space rocket which is of course needed to get to outer space, kids will also be able to build a monorail system that transports the Lego Minifigures around the space station, a research area with geode retrieval training, a launch control tower, a launchpad, and a rover with a grappling arm. That set really has everything you need to make your space exploration dreams come alive.
Like all of the other Lego City sets this one is compatible with Lego City and all other Lego sets, so your child can create the ideal world of their dreams
As you can see, Lego City sets allow your child to develop their building and play skills by building their own world! Taking inspiration from the real world, Lego City sets are the perfect way to introduce real ideas in a fun way to your child.
If you're looking to get your hands on any of these Lego City sets or any other Lego sets for that matter, why not check out Toy Hunters. With a huge range, great prices, and fast shipping Australia-wide, Toy Hunters make it easy to have fun with Lego!