A thoughtful "good morning my love" when waking up is the key to a sunny and successful day of your sweetheart. This is probably the easiest and one of the most significant gifts you can give to one you love, so don't miss the opportunity to bring a happy smile on their lips and good thoughts in their heart every time they get up in the morning.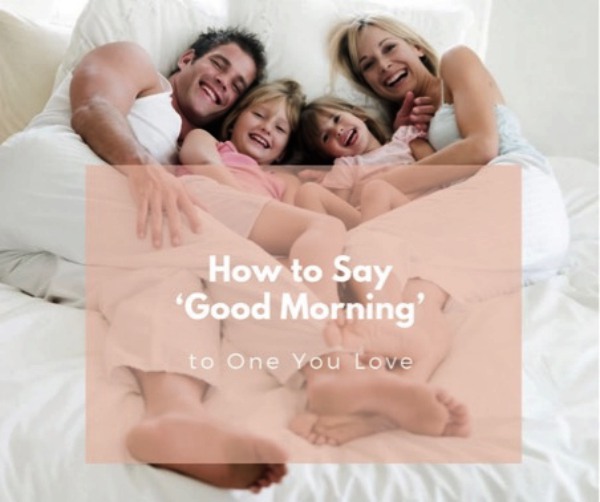 How to Say 'Good Morning' to One You Love
Good Morning Messages to My Love
Morning is a nice occasion to express your boundless feelings. So, why not take this chance and open your loving heart to your partner? Why not give them an awesome start of the day and fulfill with energy and desire to rock this day? Dive into our incredible collection of the best good morning messages to your love:
As soon as I opened my eyes this morning, I immediately said a prayer of thanks because I have someone special like you. I have waited so long for you. I love you. Good morning!
The smell of fresh coffee and your distinct smell on my sheets is something that I always look forward to in the morning. I love you. I hope you have a great day!
All mornings are like paintings: you need a little inspiration to get going, the outline of a smile on your face, and a message from someone who cares to color your day. Good Morning!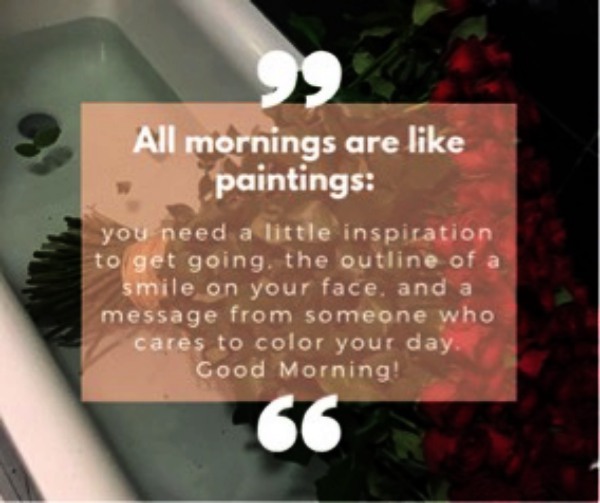 You are my favorite part of the morning. I wish I can have you for the rest of the day, too. Good morning!
Good morning! Do something today that your future self will thank you for.
Nothing warms my heart more than hearing the sound of your voice in the morning. Good morning, I hope my words brighten your day.
Let go of what kills you. And hold on to what keeps you breathing. Good Morning!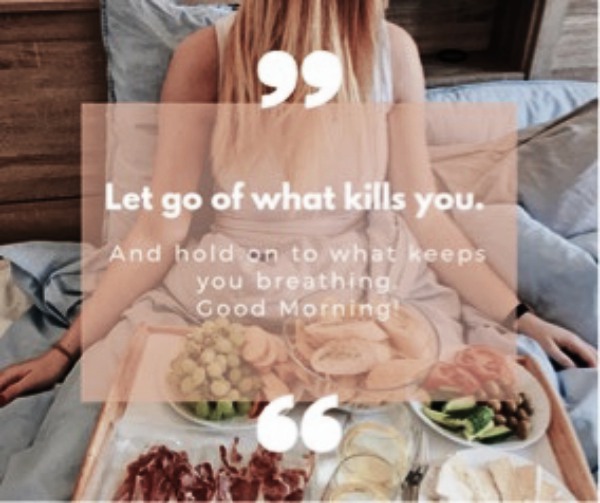 I may not be with you this morning, but I am sending you my love so that you wake up and have a great morning.
Wishing a very beautiful morning to my most favorite person on this planet. Get up, rise and shine! Good morning!
This is not a special morning, nor is this message special. Just wanted to let you know that I am thinking of you right now. Good morning my sweetheart!
I woke up one day and thought something was missing. So I got up from my bed, grabbed my cell phone and sent you a morning greeting. Good Morning!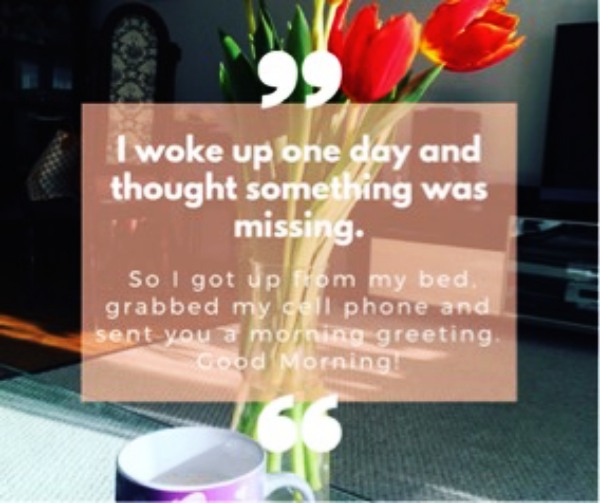 Romantic Good Morning Quotes
How to make your regular morning routine special? Just find a cute way to say "Good Morning" to your love. Romantic good morning quotes are that very little thing that makes a huge difference in your relationship, letting your sweetheart feel special. Here are some great quotes that will bring a smile to their face and happiness to their heart:
What could make this morning better? Definitely a hot and steaming cup of coffee, and you. Good morning! I hope you have the most fantastic day.
When I woke up this morning, I was just overcome with my love for you. It happens more often now because I just can't stop missing you. I love you. Have a great morning!
Good morning sweetness, I'm drinking coffee and thinking of you (of course). Wishing you a wonderful day. See you tonight!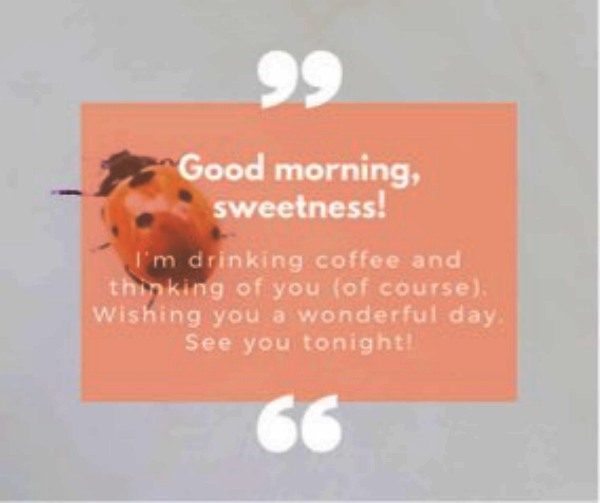 It's the warmth of your love that makes everything okay. I know that having you by my side will make all these hardships worth it. I love you. Have a wonderful morning!
Rise and shine my love. The sun is up and the birds are singing to let you know just how great the morning is.
Anyone can slay a dragon, but try waking up every morning and loving the world all over again. That's what makes a real hero. God bless and Good Morning!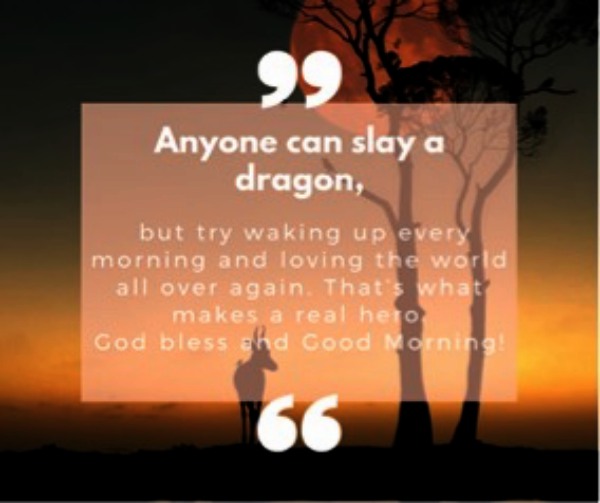 Good morning beautiful! You are the kindest, most generous, loving person that I know, and I hope you have a truly amazing day.
A Good morning wish for giving you a heavenly feeling on this sweet morning, that enables you to live every moment of your life happily so that no sorrow can ever touch your heart.
Sweet Good Morning Messages
No doubt, it's best to say 'Good Morning' in person, but sometimes different circumstances don't let us do that, so sweet text messages come in handy in this case. Depending on where you are in your relationship, choose the right words and send to the one you love and melt their heart:
I hope your day is as beautiful as your smile. I love you very much, honey. Good morning!
Thank you for making each day so much sweeter and so much happier. I hope you have the best day today. I love you.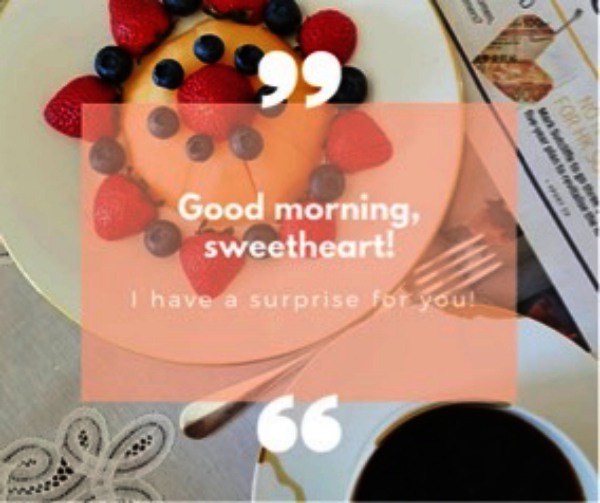 I used to just dream about you. Now I'm falling asleep beside you and waking up in your arms. How did that happen? I love you. Good morning, my sweet one.
I am sending you my love and butterfly kisses this morning so that you smile as you take on the day. Good morning!
Go confidently in the direction of your dreams. Live the life you have imagined. Have a Good Morning and a Great Day!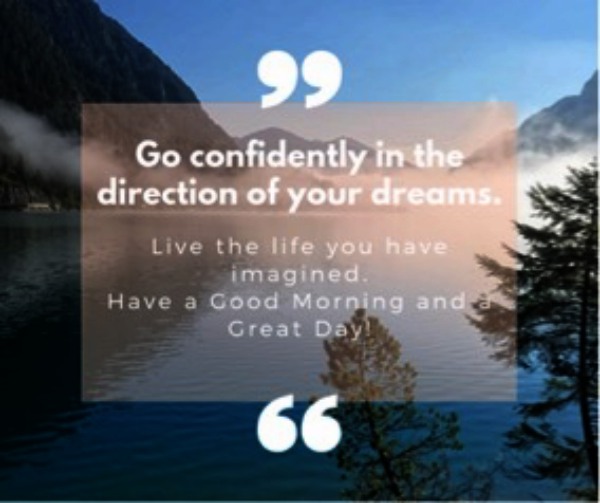 My morning does not start without sending you a message of my love and best wishes for you, so wish you very-very Good Morning dearest!
Get up! Get up! An amazing day is about to begin. Have a nice day my love. Good morning!
Breathe. Let Go. And remind yourself that this very moment is the only one you know you have for sure. Good Morning!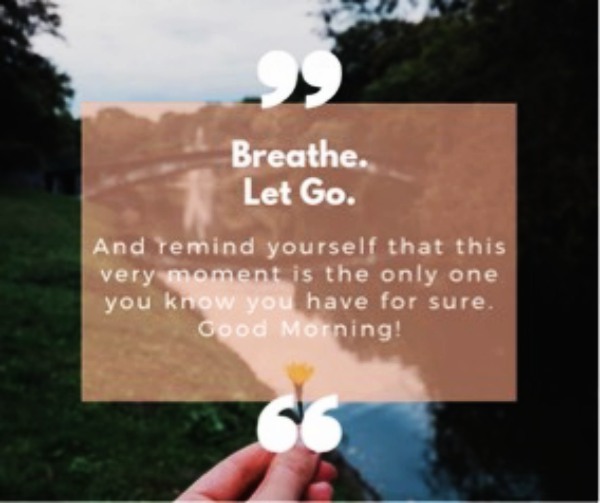 I do not care if it is a cloudy, rainy, or sunny day. What is important is that we will together greet each new day with so much love. Good morning, honey!
Sending your way, a long-long kiss, and a tight-tight hug; why? Just to make sure that you have a really good morning.
I had such a wonderful dream about you last night. And then I woke up and realized that I get to live that dream every day with you. Lucky me! Good morning, baby!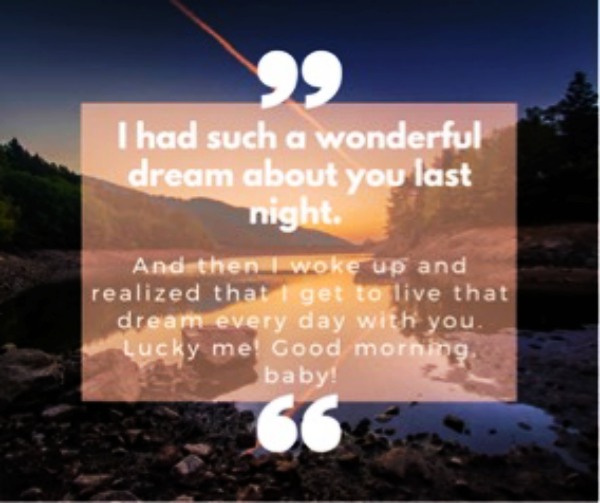 Good Morning Wishes for Lover
When simply saying "good morning" isn't enough, it's time to turn on your creativity. Make it a tradition in your house to always wish good morning in a special way, and it will surely spice up your relationships. Still wonder how to say good morning in an unboring way? Here are several ideas:
You were the first thing that came to my mind when I woke up. You always are, anyway. I hope you have a wonderful morning. I love you.
You are the real treasure that I'm most grateful for in my life. I hope we would always be this happy and in love. Good morning, honey!
Good morning, handsome creature. There are mornings when I wake up and I still can't believe you're mine. Today is one of those mornings. I love you so much!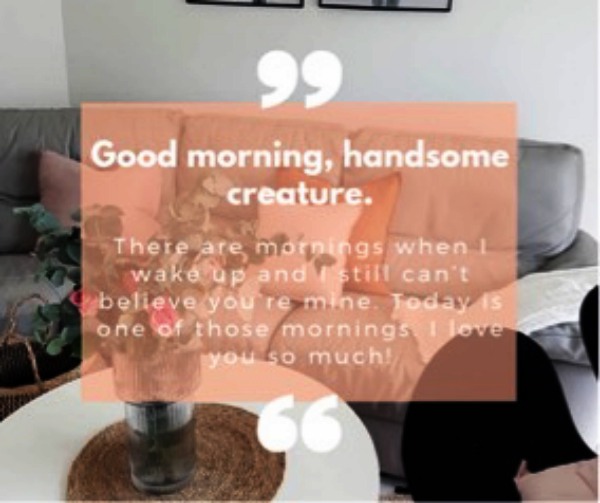 You will always be the best part of my day. Thank you for loving me. Have a beautiful morning, my love!
As each day passes, I find myself loving you more. I know I'll see you tonight, but I just wanted to say good morning.
Move on with this new day and let this new light show you the fresh direction of your life… Good morning for a new start!
Good morning, my most favorite human. Nothing special. I just wanted to tell you I love you and wish you a great morning. Hugs and kisses your way!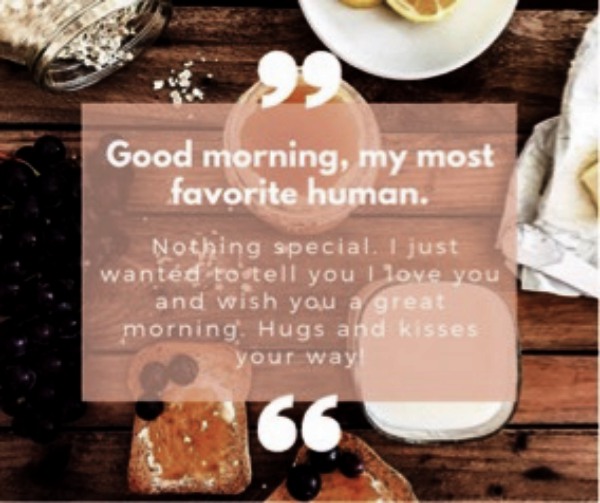 I am sad at night because we have to part our ways and I am super happy in the morning because we get another day to be together till the night parts us! Good morning my love!
You look so beautiful in the morning; I wish I could see you right now. But anyway, good morning my dear love.
Good morning, honey bunny. Want to join me for breakfast today? Your favorite pancakes will be waiting for you when you get here. Love you!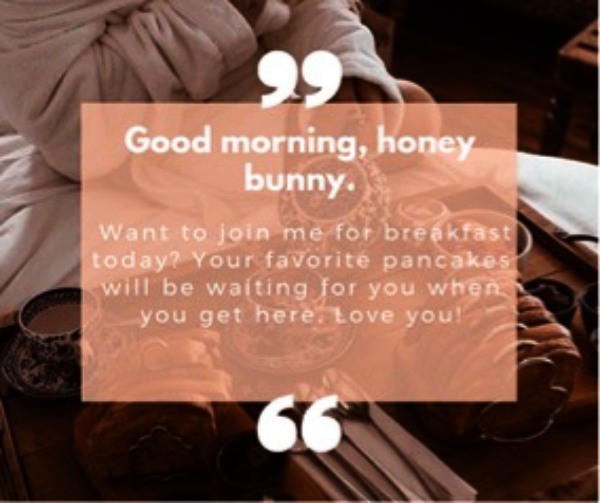 Good Morning Poems for Your Love
When a romantic good morning quote seems to be not enough to express all your love, care, and happiness of having such an awesome person in your life, opting for a cute good morning poem is exactly what you need. Write a personalized short rhyme by yourself or choose a ready morning poem for your love on our list:
A smile can make a day complete
A hug can make a day better.
So I'm sending my smiles and hugs to your way.
For you to have a complete and better day!
Good morning!
Night has gone and the moon too,
The sun has risen on a sky so blue
Open your eyes,
There's a message for you – Good Morning!
You and I,
Welcome the new day with a smile
Embrace the joy and happiness
Enjoy our day to fullest!
Have a great day!
I can't sip a coffee with you
I can't have breakfast with you,
But by heart, I am with you,
And I am always thinking about you.
Good morning, baby!
I'm thinking of you
And wish you a great day
I want the best for you
and hope things go your way.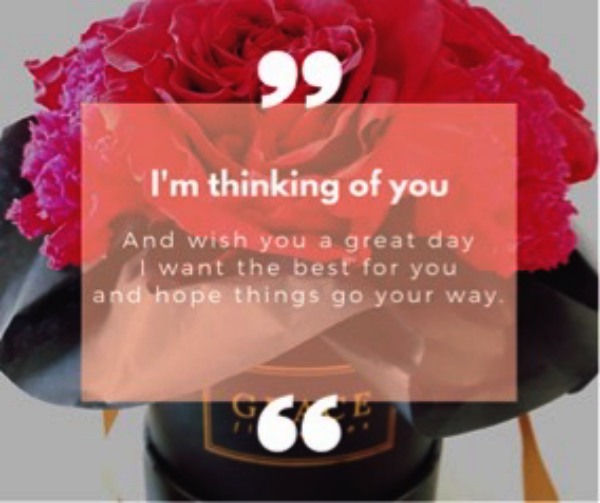 Here comes another morning,
Happiness and joy it brings,
Another time to have a chance
To make you feel you're in my heart.
Good morning!
Night has ended yesterday,
morning brings another day.
May you smile like the sunny rays
and leave your worries at the bright blue bay.
Good Morning!
I hope you had a good sleep,
Have you dreamed of me?
Coz I've dreamed of you.
Just to let you know that I miss you
Good morning, darling!
Rise and shine for a new day has begun
Let's go out and feel the morning sun
Embrace what this future will bring
Savor what truly is a good morning.
Funny Ways to Say Good Morning
Do you know what makes the difference between a good morning and a bad morning? It's the first message you receive or the first words you hear in the morning. Wanna make a perfectly good day for your lover? Choose the right words and send them a funny good morning message to make them laugh and smile right from the moment they open their eyes.
You know I have no problem with mornings. I can rise and shine like a boss, only not at the same time. Especially when there's no strong coffee around. But give me time and I'll be up and running. Plenty of time. Good morning!
What do you want in the morning?
Chocolate drink or coffee?
Pancake and milk tea?
Or just simply HOT ME?
Good morning!
Luckily, today has been canceled. Go back to bed.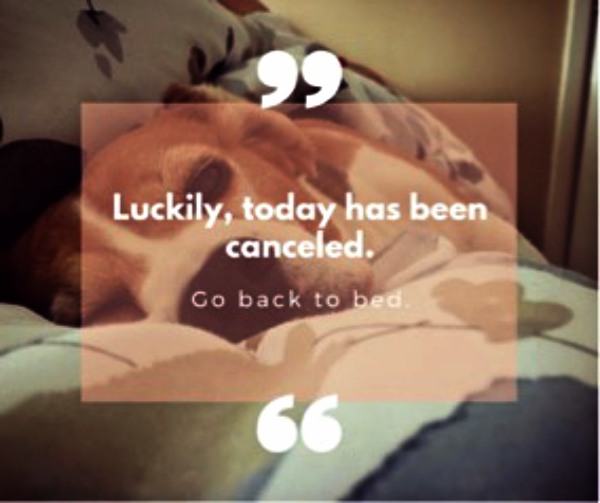 Good morning! Get up and do a happy coffee dance it's going to be a good day!
Good morning, handsome. I see that the spell has not yet been broken. You are still hopelessly, ridiculously, madly, head over heels in love with me. Good luck trying to break this spell, because I know this is for life!
Open your eyes, take a deep breath, and put a smile on your face. It's a wonderful morning. It's time to get up and welcome the day with energy and positivity. But I want you to know that just because I'm awake doesn't mean that I'm functioning at 100%. Good morning!
It's time to get up – your coffee needs you.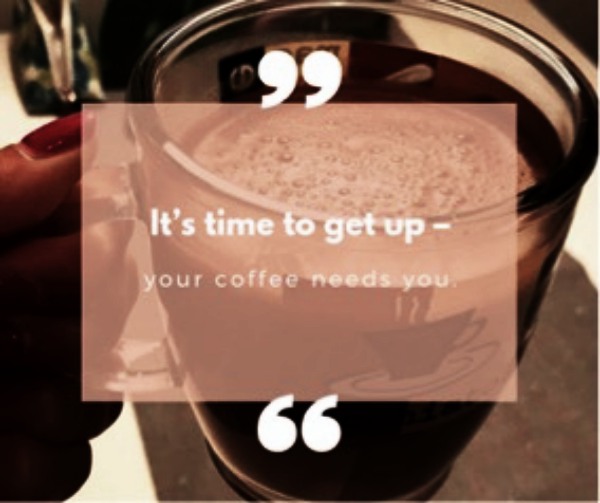 Good morning! How are you even so bright, perky, and beautiful at this hour of the morning? Are you even human? The most energetic I can get in the morning is reading your message, sending a reply, and then going back to sleep!
Good morning, dear. It's such a beautiful sunrise today! But wait, what am I doing up so early? I will just go and drink coffee and pretend that I know what I'm doing. Talk to you later!