Love is a source of inspiration for many people. It makes your heart sing and fills your soul with excitement. When you are in love, then you feel pure bliss.
If you are in love, then expressing your feelings through words and deeds is a must-have. Though acts speak louder than words, you shouldn't underestimate the power of words.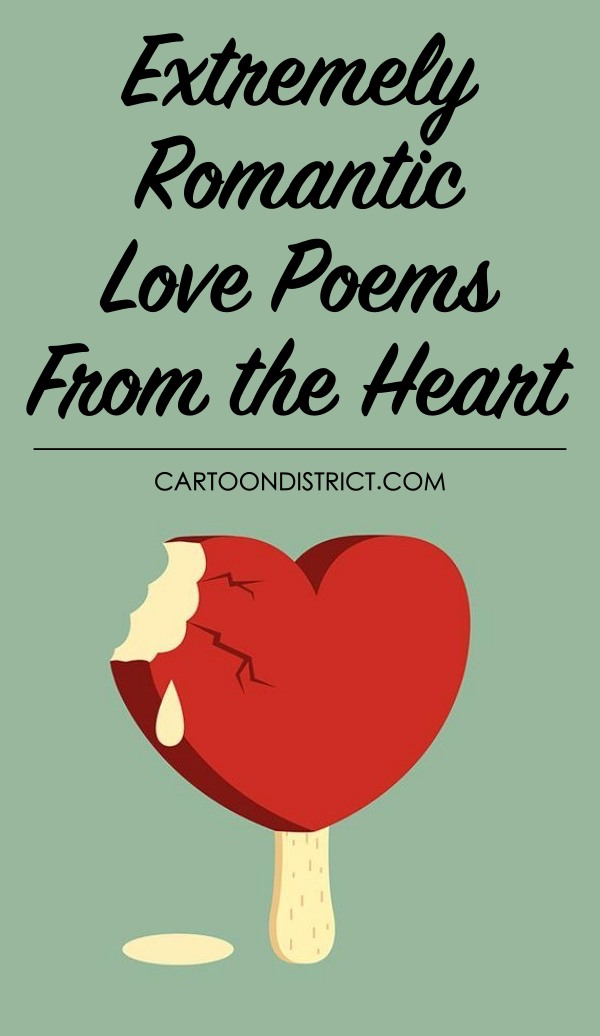 Words of romance in a form of love poems can surely capture anyone's heart. Especially when given to your girlfriend, fiancé or wife, romantic love poems for her would surely make them love you more.
Romantic Love Poems from the Heart
If you are capable of writing poems by yourself, then it will be a great way to confess your feelings, but if you can't write romantic poems, don't be sad! Here are romantic and touching poems for your second half.
Love Poems for Her that Will Make Her Cry
These lines can touch her heart and make her cry. Let it be tears of happiness.
Before I met you,
I felt that I couldn't love anyone,
That nobody would be able to fill the void in my heart,
But that all changed when I met you.
Then I came to realize you were always on my mind.
You're funny and sweet.
You make me laugh and smile.
You take away all my anger and sadness.
You make me weak when I talk to you.
Then I started to write poems about you.
Now I have come to realize that I am hopelessly in love with you.
When I am with you, my heart is on fire,
To be with you is my only desire,
And if you love me, I'll give you everything you need,
A lifetime of promises and a world full of dreams!
For only my heart knows what it means,
And I promise you it won't be wrong,
One love, two hearts we will make it strong!
Darling when I'm alone, you're the one I miss,
All I want to feel is your sweet kiss.
Darling, it's true my heart has fallen in love with you!
From the moment we met,
I never had a doubt,
That you were a real knock-out.
I am so happy that it has happened,
You fell in love with me and that's everything that mattered.
It's a real wonder that a simple guy
Got such an angel that became his wife!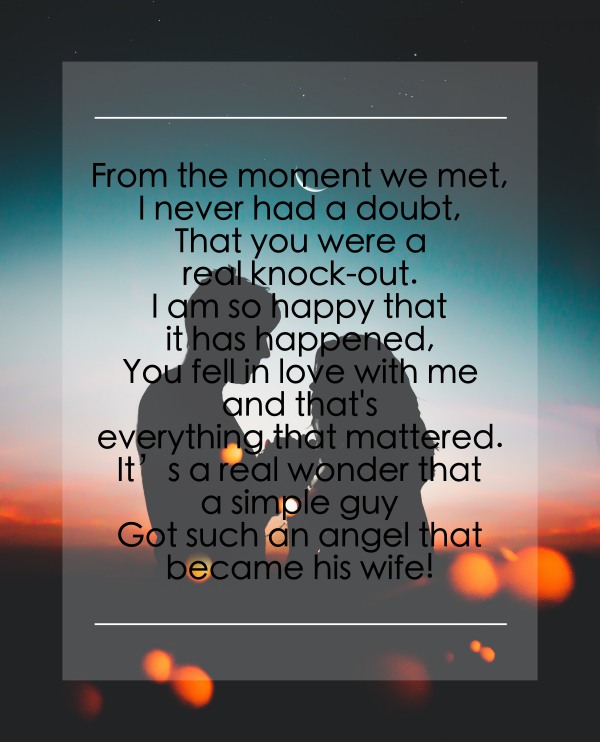 I love the way you nag and glare,
It makes me know how much you care,
I love the way you walk, you speak,
My love for you has reached its peak.
I love you just the way you are,
There is nobody as perfect as you are,
I love you because you love me too,
Just like the way I do.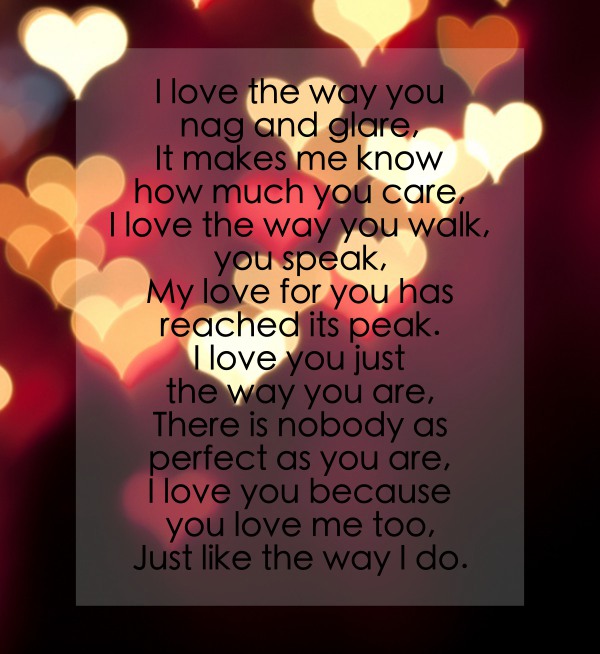 I love you from head to toe,
And more than you'll ever know.
I know we fight every now and then,
But please know I will love you until the end.
I just know you are the one for me,
And the only one there will ever be.
You are the one I want to spend my life with,
To call my wife and to share a kid.
I will never tell you the words goodbye,
And I will love you till the day I die.
If I was to pass on before you do,
I will be waiting at the gates of heaven for you.
Best Romantic Poems
These romantic love poems for her from the heart will melt the heart of your beloved woman.
You have come into my life,
And it changed with a blink of an eye.
You have shown me this wonderful world,
Your beautiful smile is more precious than gold,
I can praise you for a whole day,
But my love for you is so great,
That I need many days to say.
I want to hold you close and dance with you,
Just take your hand and run away with you,
I want you to hold my heart in your hands,
I want to be more than friends.
Grab your waist and pull you towards me,
Your sparkling eyes are the most amazing view.
Keep you tight and when I tell you I love you,
Kiss me and tell me you love me too.
No man will not notice the beauty in you,
It's like you are an angel out of the blue.
Your face is amazing the way it is,
But it's your heart and soul that is for keeps.
You mesmerize me with your innocent smile,
But your eyes also keep me hypnotized for a while.
And I wish only one thing in my life,
I want you to become my wife.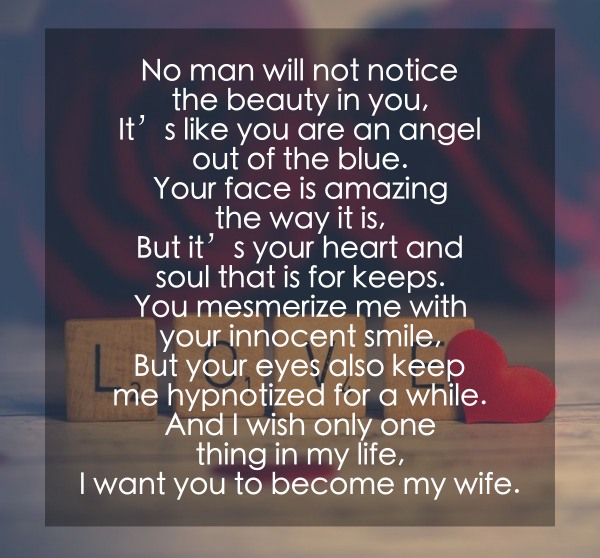 When I am without you, the sun seems so dull.
When I am without you, the plants seem to cry.
When I am without you, I imagine your face.
When I am without you, I think about your beauty and your grace.
Yet, when I am with you, the sun bursts through the clouds.
When I am with you, I know I can move mountains.
When I am with you, my heart is free of chains.
When I am with you, everything falls into place.
When I am with you, I remember why I fell in love with you!
Your lips are so soft and red,
The thought of kissing you is stuck in my head.
Your beauty is so bright and warm,
It is shining through the darkest storm.
Your eyes sparkle like stars in the night sky.
When I stare into them, I feel like I am soaring high.
My love for you is pure and true.
I never stop thinking of you.
I promise to love you for every moment of forever,
And when everything else crumbles, I will never.
I am your armor to protect you from harm,
Like you are to me, a lucky charm.
For you are my heart, my soul.
Baby, you are my whole world.
Short Romantic Poems
Keep your emotions contained in a short poetry and send one of these short romantic poems.
I will protect you and catch your nightmares,
I will stand up for you even if nobody cares,
With you, I am always over the moon,
With you, each passing day looks like the best honeymoon.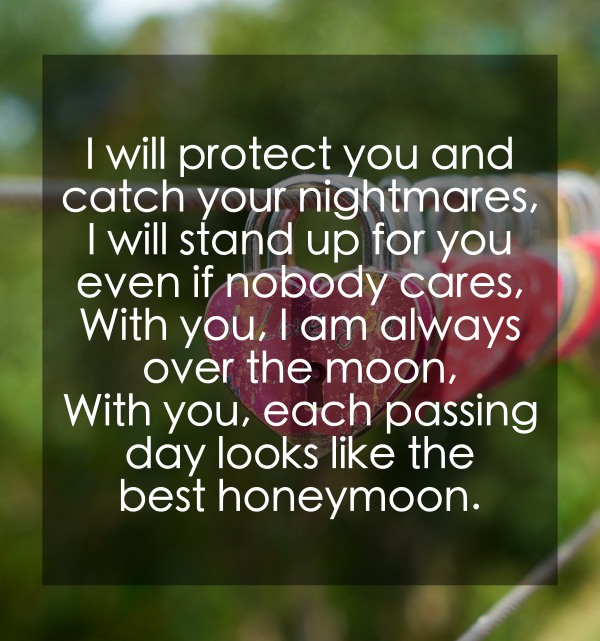 I love you from the depth of my heart!
Honey, we will never be apart.
I will stand by your side in a storm in this life.
I will never hurt you, I will make you my wife.
I will be your man forever and I will leave you never.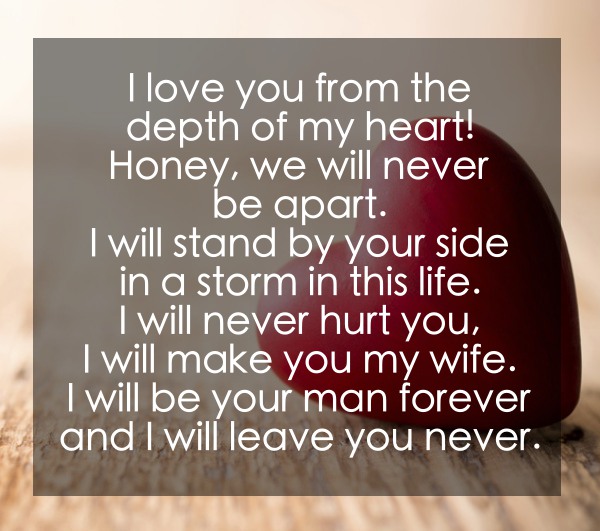 Roses are red, the sky is blue, my eyes sparkle when I look at you!
My heart sings songs, dedicated to you,
I've realized that the meaning of my life is you!
If tomorrow will never come, there is one thing that needs to be done,
Caressing your hair, gazing into your eyes is a perfect way to break down the ice!
The scent of your skin and the taste of your lips are everything that my heart needs!
Light and hope fill my heart,
Oh my God, your love is an art!
Virtues you have are truly endless,
Everything I need is to enjoy this madness!
These amazing love poems will melt the heart of your loved one and add romance to your relationship.